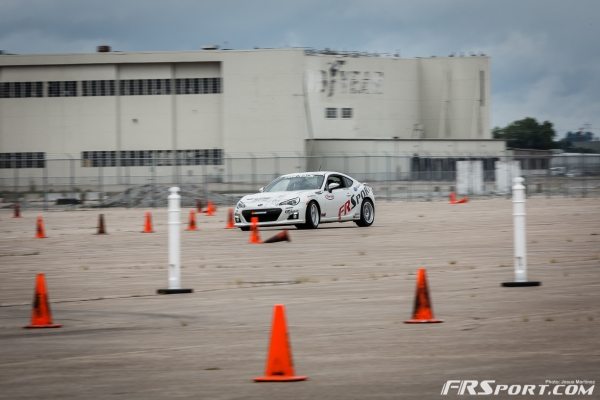 CONTINGENCY PROGRAMME INFO
FR SPORT  is proud to partner with SCCA (Sport Compact Club of America) for the 2015 Solo National Tour and ProSolo National Series throughout the 2015 season. We are offering a competitive contingency program for SCCA competitors in the popular and highly competitive STX and STR classes, for Solo and ProSolo National Competitions respectively. Run the FR SPORT decals and earn $150.00 to spend on parts for your car when you score a 1st place trophy at any National Solo Tour event or ProSolo National Series event of the 2015 season in the classes mentioned.
To be eligible for contingency awards, you must pre-register and meet the requirements (decal placement) before competing in the event. After the official race results are out, you can fill out a claim form and demonstrate proof of decal placement in order to claim the $150.00 FR SPort Store Credit Prize. You will be able to spend the prize money on parts & services through our www.frsport.com site or by giving us a call.
In addition, registered competitors will also receive the following benefits:
Competitive Pricing on parts and services for your race car.
Increased media exposure for your name, team, and car (we like to show you off).
Access to parts knowledge and technical information.
Opportunity to work with one of the most passionate companies in the industry.
CONTINGENCY PRIZES
Contingency Prize (Per National Competition (STX & STR Only)
1st Place
$150.00
* To be eligible to claim the prize, competitors must be registered, submit a reward claim form, and have proof that they ran the FR Sport Decals during the event.
REQUIREMENTS
Terms:

Drivers must be enrolled and pre-approved prior to the race event.
Winners must complete an IRS Form W-9 in order to receive payment.
A separate award request form must be submitted to claim each prize.
FR Store Credit prizes must be claimed within 45 days of the winning date.
The absolute expiration date for all awards is December 31st, 2015.
FR Sport Credit Prizes must be redeemed in full and cannot be redeemed for cash.
Certificates may be combined up to $600 per transaction.

Decals:
FRSPORT.COM logo decals are required for contingency award payment on all participating race vehicles . The correct decal size (as noted below) , color,  and placement on the vehicle is also required (Some special color requests can be considered). Decals must be placed on a solid, contrasting background so they are clearly legible from a distance. Colors for the logo besides SILVER must be pre-approved by FR SPORT marketing dept.
QTY 1 – 15″ length decal on front front bumper.
QTY 2 – 15″ length decal on front front fenders.
QTY 1 – 15″ length decal on front rear bumper.
Interested parties should e-mail [email protected] to order their decals or request them prior to a local SCCA event (El Toro Competitions Only). Decals will be provided free of charge and can be picked up from our showroom after you order or brought to you at the track (El Toro Only. We are providing the contingency for 2015 SOLO National Tour & ProSOLO National Series participants in the STX & STR  classes respectively this year). If you are not local please order in time and do not wait until the last minute as we will only mail these decals under the most economical shipping method. If you prefer to make your own decals please download the eps. file below.


Forms:
In order to sign up for and claim the prizes promised one has to fill out two forms. One form is the Registration form for FR Sport's Contingency Program (Mandatory) and the other is an Award Request form used only when one scores a 1st Place Trophy in the aforementioned events. A W9 form is also requested on our end for IRS complacency. These can be viewed and downloaded by clicking the link below and are necessary to qualify.
CLICK HERE TO VIEW AND DOWNLOAD FORMS
2015 SCHEDULE
SCCA 2015 Solo National Tour  Schedule of Events
| Date: | Round | Venue or Location |
| --- | --- | --- |
| Mar 13-15 | 1 | Cecil, GA |
| Mar 20-22 | 2 | San Diego, CA |
| Apr 10-12 | 3 | College Station, TX |
| Apr 17-19 | 4 | Crows Landing, CA |
| May 24-25 | 5 | Lincoln, NE |
| Jun 12-14 | 6 | Fountain, CO |
| Jun 12-14 | 7 | Ayers, MA |
| Jul 10-12 | 8 | Packwood, WA |
| Aug 14-16 | 9 | Wilmington, OH |
| Sep 8-11 | 10 | Lincoln, NE (National Championship, No Contingency available for this event) |
SCCA 2015 ProSolo National Series Schedule of Events
| Date: | Round | Venue or Location |
| --- | --- | --- |
| Mar 6-8 | 1 | Blytheville, AR |
| Mar 27-29 | 2 | Irvine, CA |
| Apr 24-26 | 3 | Crows Landing, CA |
| May 8-10 | 4 | East Rutherford, NJ |
| May 22-23 | 5 | Lincoln, NE |
| May 29-31 | 6 | Wilmington, OH |
| Jun 5-7 | 7 | Mineral Wells, TX |
| Jun 26-28 | 8 | Toledo, OH |
| Jul 17-19 | 9 | Packwood, WA |
| Jul 31-Aus 2 | 10 | Wilmington, OH |