This past weekend was the final event of the 2012 Formula D season. I heard that the event was completely sold out a week before the event and could not believe it. Thinking back on the rest of the 2012 season and the drama that has been following Daigo Saito and Justin Pawlak since the Florida event, combined with the fact that both of them were neck and neck to win the Championship, it was easy to understand why it was packed. I knew I had to be there.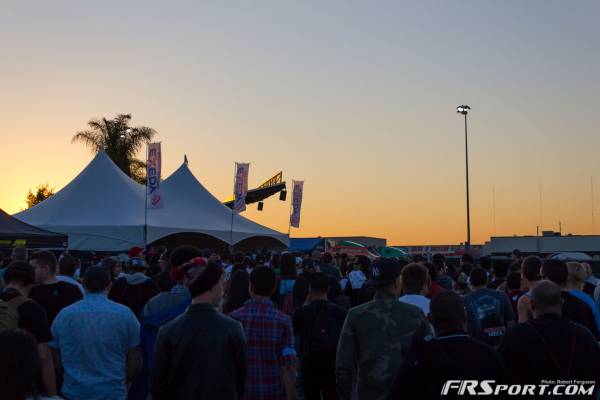 When I got to the event however, it actually was sold out. It really was packed! Normally they say it is sold out and they still sell tickets at the gate, but this year that was not the case. If you didn't have tickets in advance you were not allowed in.Gates opened at 2pm, which was a nice change from recent years. The best part of the gate opening late is that the top 16 and upward would be at night. This was very nice considering the sun was not in your eyes, the temperatures were cooler, and you could see the track markers light up.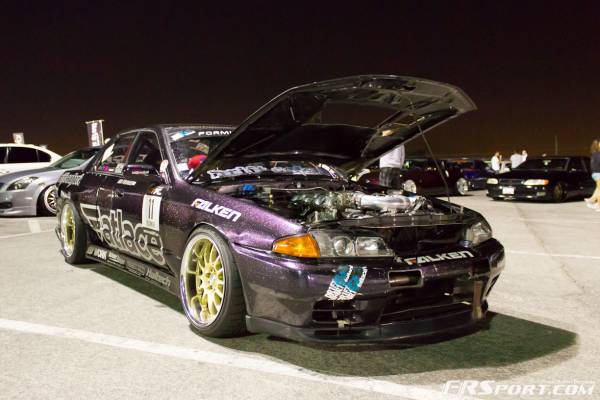 I showed up around 3pm, traffic was not a problem as it had been in recent years, everything was much more organized. As soon as I exited the 605 freeway, I was greeted with the sound of high powered car's exhaust, screeching tires, and the smell of tire rubber and race fuel. It was hard not to feel excited.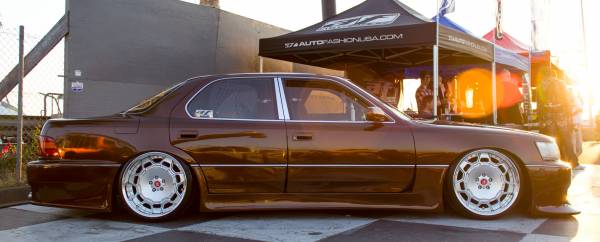 While waiting to enter the parking lot, it was equally hard not to notice the amount of modified cars attending the event. Entering the parking lot was another story, I wanted to just walk around the parking lot and take photographs of all the nicely modified cars that I could see, which was just about everywhere I looked.Walking to the entrance of Irwindale Speedway meant that you had to walk through huge clouds of smoke. I really enjoy the smell of melting tires, so much that I wish someone would release an air freshener that smelled like tire smoke and race fuel.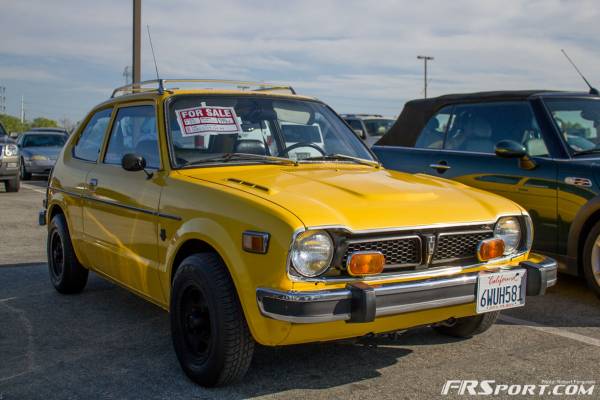 Like this First Gen Civic, which just happened to be very clean and for sale.
Once inside, it felt like I was a cow in the midst of a huge heard moving through the tight confines of a barn on my way to slaughter. After walking through the hoards of drift fans, the area seemed to open up a bit as I made my way to the Slammed Society car show/Vendor booth/ Pits. It was still packed and very hard to get a good shot. Most of my photos were taken during the top 32 and the top 16 while most people were watching the show.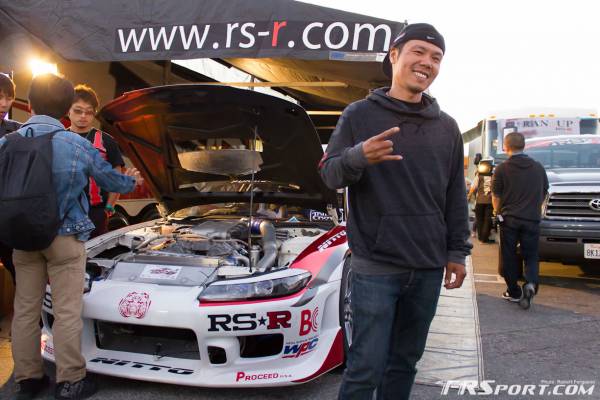 In my opinion the RS*R S15  piloted by Yoshiki Toshiking Yoshioka was one of the better looking drift cars of the season. I have heard that this car will be returning back to Japan, and hope that if this is true Yoshioka will continue to compete with cars that are as good looking as this.
I was very surprised at the amount of vendors/ cars at the car show, and spectators at the event. I am always surprised at the growth of Formula D. With every event comes more fans/more vendors/ more cars/models ect. This last event saw what I consider to be the best vendor section I have seen in a long time. Almost all the vendors were giving out free stuff and brochures of their products.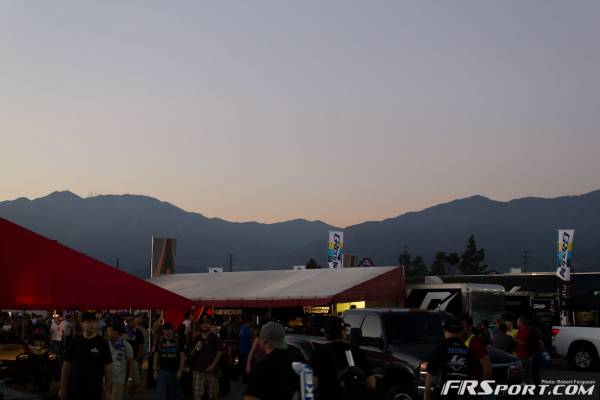 If your anything like me, chances are you read Speedhunters regularly. If so you would have definitely enjoyed the Speedhunters booth, which had it all.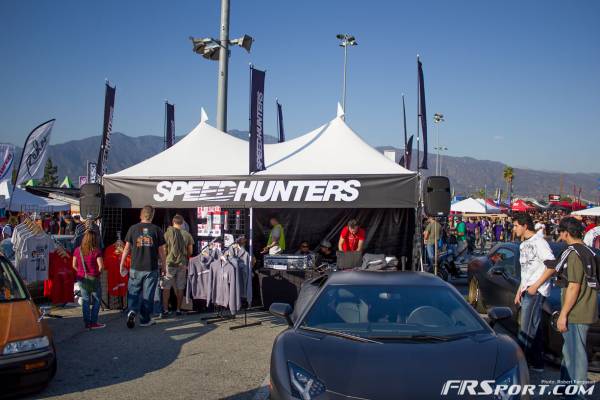 Awesome cars, merchandise, the website photographers, and the contributors like the beautiful Courtney Day (ex Falken Model/ owner of a very nice Supermade S14!) and Dj Miki Taka.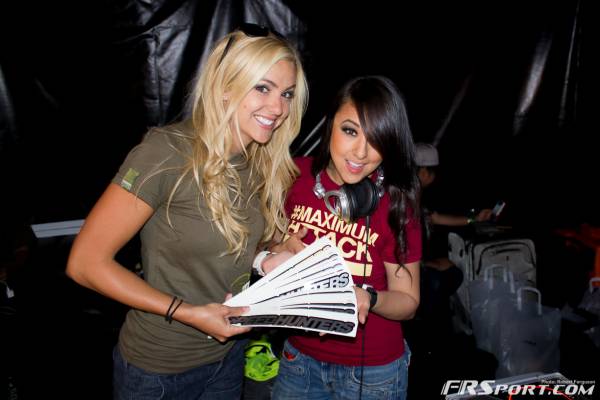 The cars on hand were Bismoto's Impressive 911 turbo,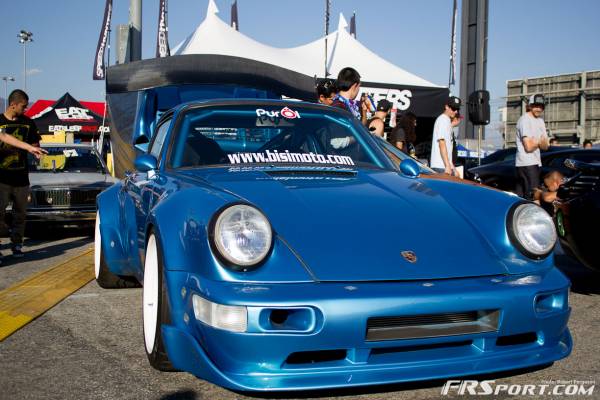 Jon Sibal's menacing Dodge Challenger,

the Rustbucket Civic Wagovan,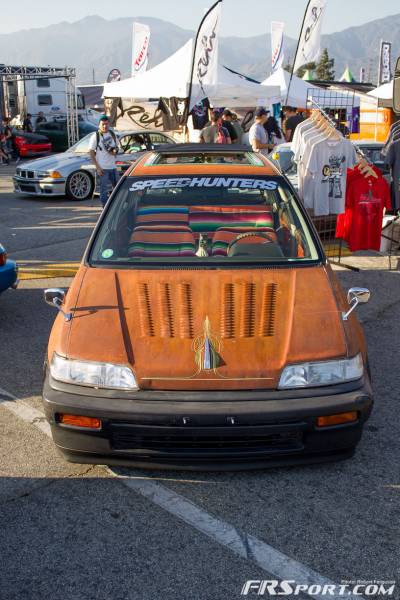 two black supercars in the form of a Lamborghini Aventador and a McLaren MP4-12C and the recently featured Zombie Chaser in all its retro glory. The line for the booth was long as they were selling their newly released shirts, stickers, and keychains. A select few were lucky to have the opportunity to purchase their new 400 page super quality photobook of all the events they have covered in the past year. Many of the photographers, writers and even drivers like Mad Mike and Fredric Aasbo were on hand for a book signing.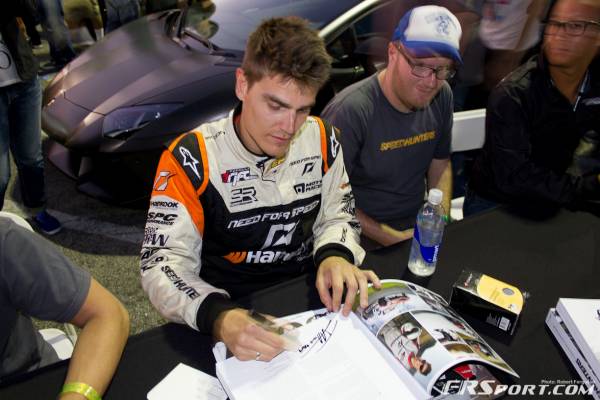 Another booth that caught my eye was the Hoonigan booth, which had a very killer looking White RWB Porsche 911.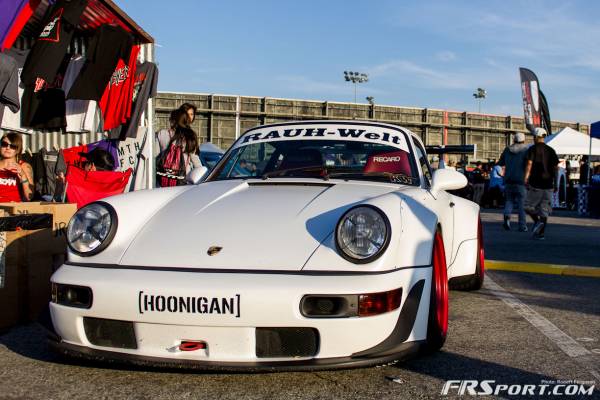 I even had the chance to say hello to Daigo Saito there and wish him luck in the finals. Other media outlets had booths there as well, including the Motormavens crew with their super low, super nice red FR-S, which I took photos of at last week's 86FEST. Dsport and Import Tuner/Super Street were also on hand. Various other booths, such as Will Roegge's KDF (KeepDriftingFun), were there selling their clothing and stickers to promote a good message and their awesome video.
Which can be seen here for your viewing pleasure.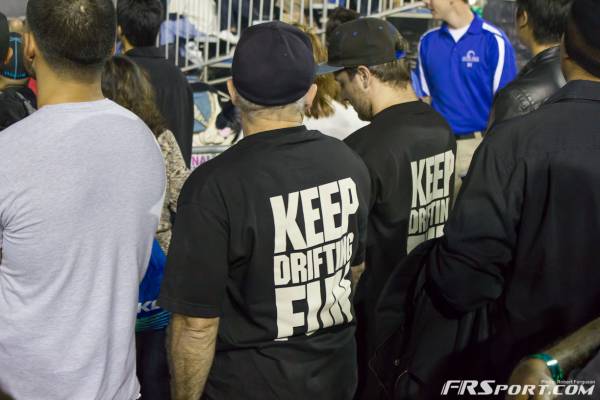 While checking out the Slammed Society car show, I was very impressed. Everything from full race prepped carbon fiber Miatas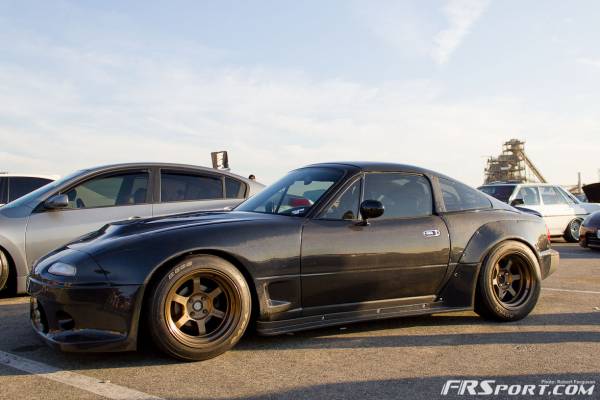 to dumped S13's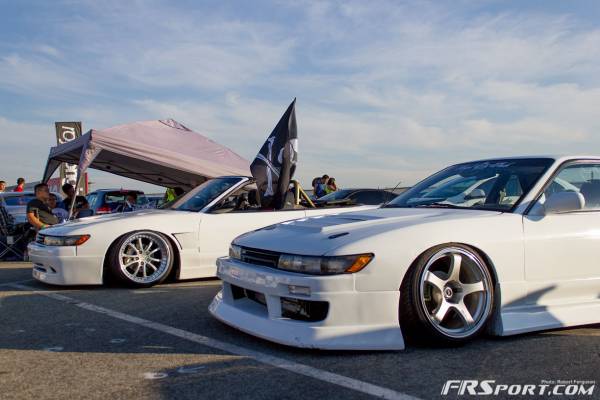 Zs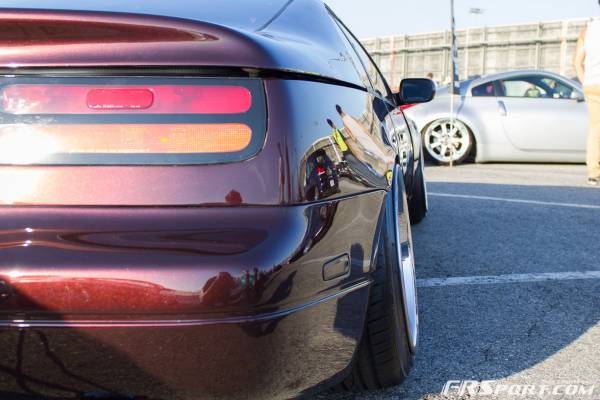 and even a full Vertex S14 on airbags.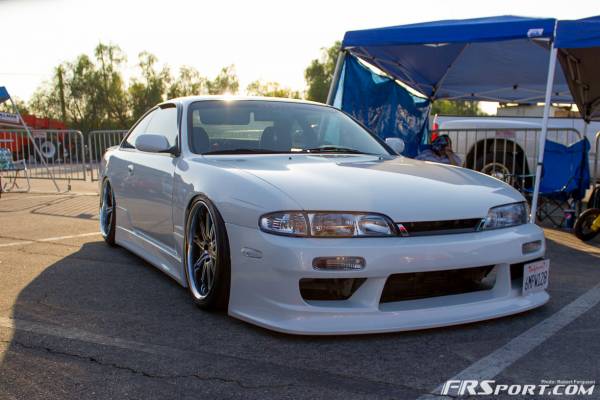 It was hard not to notice many of our customers and vendors there as well.
After walking around and taking pictures I decided that I had covered as much as I could and really wanted to watch the top 8. Talk about excitement! Every race was close and I have never seen so many hard crashes. I am not talking about lovetaps with the wall, I am talking full throttle "WAM BAM" Nick Hogan ain't got nothing on me, killer car crashes. Here is the aftermath of Walker Wilkerson's "lovetap". It's hard to believe he still drove after this. The guy definitely has a lot of heart.

Rhys "Mad Skills" Millen smashed into the inner bank so hard that it ripped his wheels off with the suspension and knuckle still attached as it rolled into the center of the field. Tony Brakohiapa decapitated the front of his Ebay Mustang. The crash of the day however, was definitely Justin Pawlak stuffing it in the wall against the title fight with Daigo Saito.After the crash, Daigo was guaranteed the race and the championship.
In my opinion the race of the night was Matt Fields vs Daigo Saito. Matt drives a s14 that is severely underpowered in comparison to Daigo's atmospherically high horse powered Soarer but he just raced with everything he had. He kept it fender to fender not giving anything and taking all that he could. There were even a few times when he line checked Daigo and tapped the wall every time on the inner bank. Many "One More Times" were called and even though the crowd felt like it was too close to call after the final O.M.T, Daigo moved on.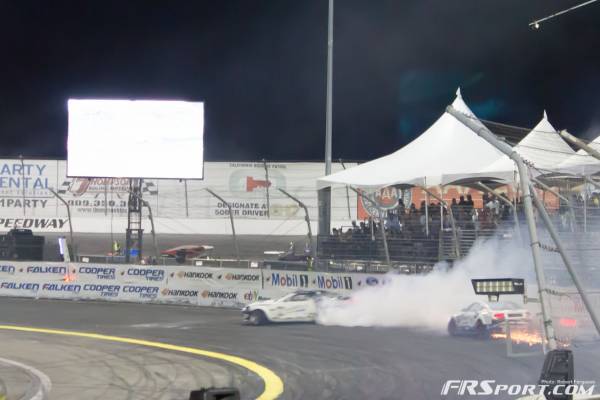 I feel that each Formula D keeps getting better and better with the exception of the assigned seating and lack of cool places to stand and watch, like I could do in years past. The sport is definitely growing, which is a good thing. It is also a good thing that Daigo won because now Achilles Tire will be putting more money into Formula D, as well as the always popular and competitive team Falken Tire. More money from sponsors means bigger and better things for the fans. One of the bigger announcements is that Ford Motor Company will be the official sponsor of Formula D next year.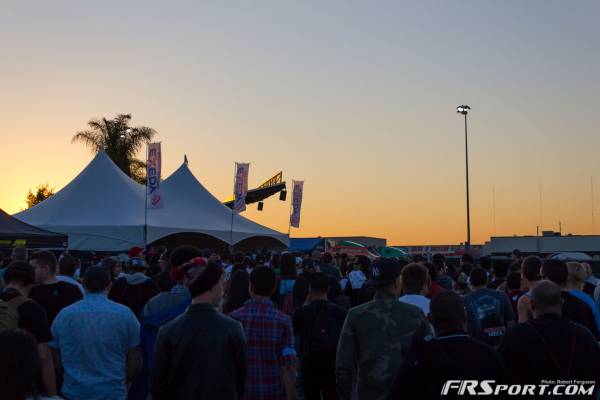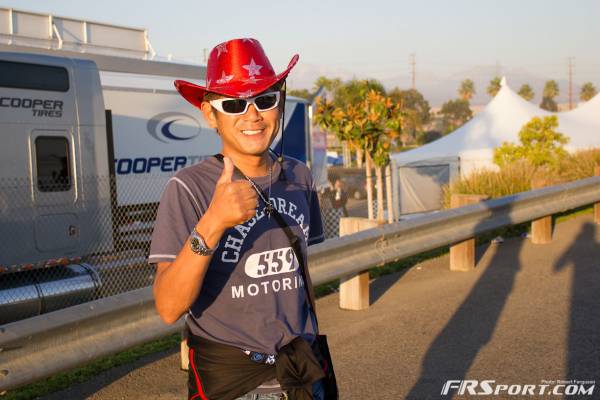 One of the more surprising things at FD was the appearance of Manabu "Orido Style" Orido. World famous racecar driver who has raced in everything from D1GP, to Super GT, and even NASCAR. He was just walking around in typical sparkling red Orido Style Cowboy hat like he was a nobody, the sad thing was the amount of people that did not seem to even notice him. It sure made me feel old. Just makes you wonder, is it possible for him to come to the United States and race his Lexus ISF powered GT86 in Formula D? One could only hope. I am sure the season opener will sell out faster than this last race, and tickets are now on sale, so be sure to buy yours as soon as possible, I know I will.
I hope you enjoy the event coverage and the photos, it was really difficult to take pictures without people or their shadows ruining my shots. I did my best, until next time, remember to enjoy car life.
[button color="#FFFFFF" background="#FF7F00″ size="large" src="http://heavythrottle.com/?page_id=4221″]View Gallery[/button]