It's the start of a new racing season and there's one important thing that needs to checked off your maintenance-to-do-list before the first event:
Changing the ugly, black-tar looking, 3+ year old brake fluid. Yuck.

Now before you run to your local Autozone or Pepboys to grab a bottle of some brand-name brake fluid, you might want to try Torque RT700 brake fluid.  Why?  Because Torque only makes one thing; Brake Fluid.  Now if a company specifically specializes in only one product, they're probably pretty damn good at making it and in this case, Torque's quality is totally evident.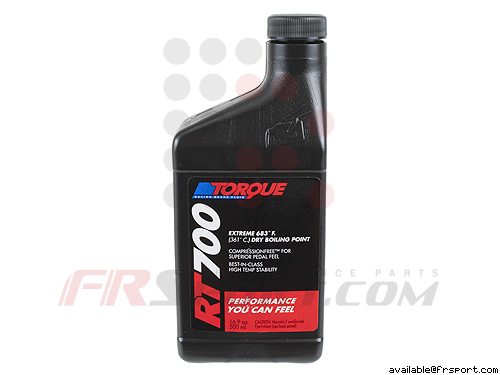 Torque Who?
The Torque RT700 brake fluid is DOT 4 rated and features better pedal feel along with a high "reverse alkalinity" rating which means it is highly resistant to becoming acidic which corrodes braking systems (something that's not wanted).  And with a dry boiling point of 683F and wet boiling point of 439F, brake fade is almost surely not happening.
What factors in the better pedal feel is the fluid's compressibility characteristics which is something  not a lot of manufacturers of brake fluid mention or talk about.  The RT700 fluid is the "highest density brake fluid on the market today" because it is less compressible compared to most other popular brake fluids, which leads to the "superior pedal feel" as listed on the label. 
The pedal feel is something I can vouch for because I was able to brake very deeply into the hairpin corners at the last Autocross competition I competed in.  There was very little to absolutely no lock up with the brakes at all which gave me total confidence that I could nail my braking-zones consistently every time.  Plus, the pedal feel is so modulation-friendly that I did not have to really mash hard to get my car to stop but instead, it was more of an ease-on the brakes and squeeze action in order to slow things down.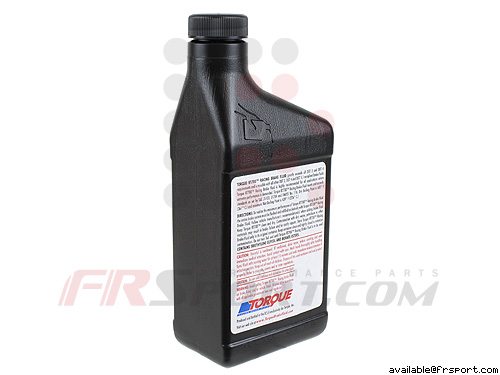 VERDICT
Anyone could go with the usual suspects of Valvoline, Endless, Motul or even AMS OIL brake fluid (which are all good) but why not give Torque's RT700 a shot? I did and am very happy with the results because my front brakes don't lock up anymore like they used to!  It was definitely performance that I felt and you can feel too.
For more in-depth details visit Torque's website here. To purchase some RT700 click here, you'll be glad you did.