From one of the most popular and respected tuners in the Japanese Industry, Tomei has finally released their own version of the exhaust manifold and over pipe for the Subaru BRZ, Scion FR-S and Toyota GT-86. They offer an Equal Length version and an Unequal Length version. These exhaust manifolds combined with the joint pipe, make a great a duo of an upgrade for your FA20 motor in your FR-S or BRZ.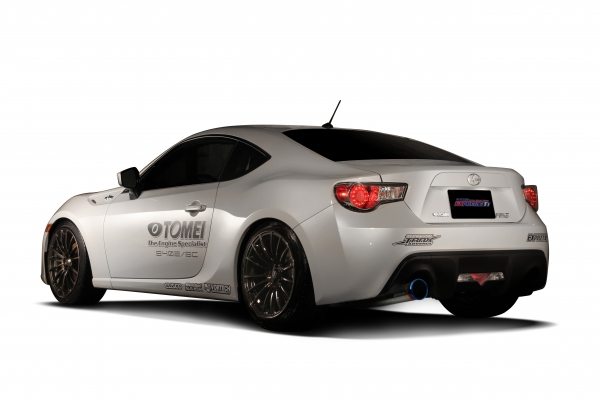 Through our close relationship with Tomei Japan, we can confidently say that they have truly taken their time on the design and fitment of these exhaust components. With the use of the "Lost Wax Precision Casting" process, wider piping, and direct bolt on fitment, these exhaust components belong on your epic boxer motor. 
The Tomei Expreme Over Pipe, like the headers, also retains a consistent pipe diameter without any flat spots unlike the stock pipe. This over pipe pronounces the Tomei quality with their spot on fitment just like the other exhaust pieces that they have produced.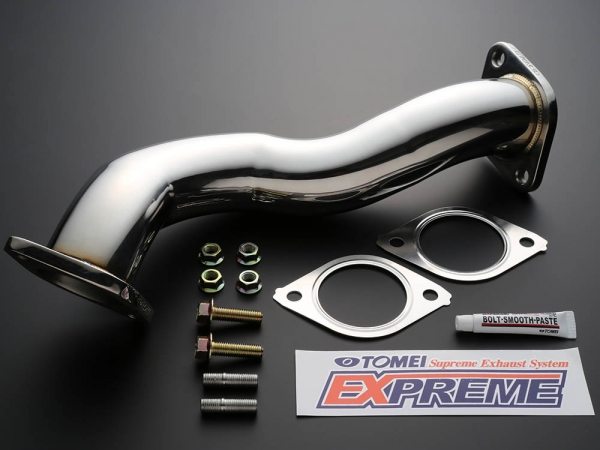 In sync with the Over Pipe, Tomei released the two exhaust manifolds for the FA20 engine. The differences between the two headers would be the length of the runners on each unit. The Un-Equal Length (UEL) header gives the vehicle the pronounced boxer motor sound; while in contrast the Equal Length (EL) Header's sound comes out as a whole. The (EL) Header nets more power throughout the power band rather than up top. The header ultimately eliminates the dip in the middle of the power band. The power output with the (UEL) Header however is more consistent throughout up until 6700 RPMS. This header is perfect for those who do not stay in the higher rpms during their driving. 
As a direct bolt on manifold, the Equal Length Header (Below) netted the most horsepower out of the two; of course combined with the Tomei Over Pipe.  This combination grants an extra 7hp at the peak of 7000 RPM over the unequal length header. This header makes the extra power on a stock ECU and tune to boot. With a proper tune, more power can surely be seen. With the (EL) Header, a more peaky but less linear power-band is achieved, which ultimately makes for a fun high revving motor.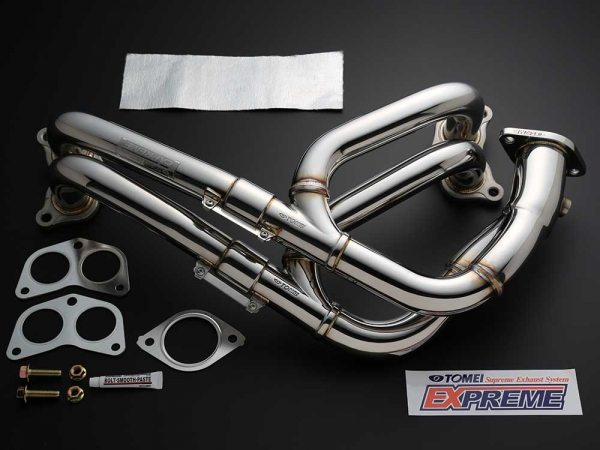 This dyno sheet shows the changes in power that the headers have procured on a stock FA20 engine. These power bands show proper gains from freeing up exhaust flow and letting the engine breathe a bit better than before. Removal of the catalytic converter is required to use these exhaust components so it is safe to say that one will not pass emissions in the state of California at least. These are primarily designed for off road use only.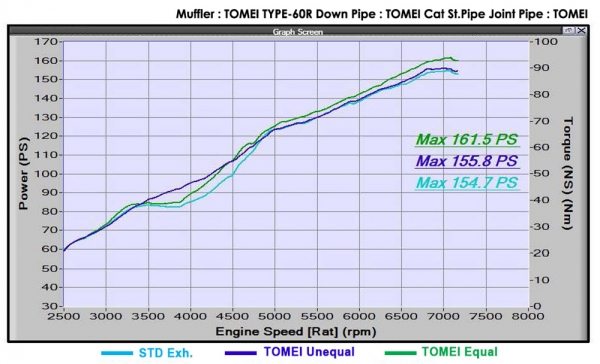 To pick up a set for yourself, simply click here to be directed to the FR Sport website. Happy revving everyone!