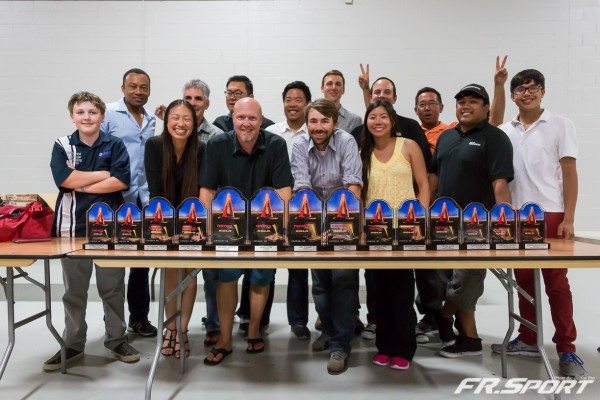 As I'll explain later, that subject line became very important in my quest for the 2015 D Street National Championship, but first, some back story to what has been an eventful year in the buildup to Nationals.
Late last year, I was talking to my friends at FRSport about possibly driving one of their cars for the 2015 season. They had a 2015 WRX that was not being raced, and since that is the car to have for D Street, it seemed an obvious choice for a competitive ride, so a deal was done.
We put on a cat-back exhaust, a big front bar and a set of Hankooks on the car and I was immediately quick in the car. However, coming from my Street Touring background of an NC MX5 and a BRZ, it felt like I was wrestling a gorilla around the course, rather than a precision instrument. In addition to being soft, the car had terminal under steer and a lot of wheel spin. There was no denying the clock though, it was fast and I won the El Toro and Crow's Landing Pro Solos for DS which secured me maximum points for the Pro Solo Finale in Lincoln.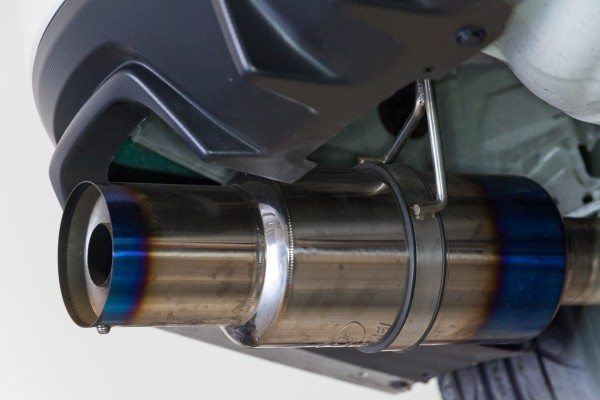 At this point, Guy Ankeny joined the FRSport team, and he immediately started to work on some double adjustable Bilstein dampers for the car. This required much custom machining and specialist parts from Europe, so it took a few months to get the setup completed, but I was super excited and felt the wait would be worth while. When they were finally ready, we replaced the worn Hankooks with some new Bridgestone RE71R tires so we could dial in the car with the exact setup we planned to run in Lincoln.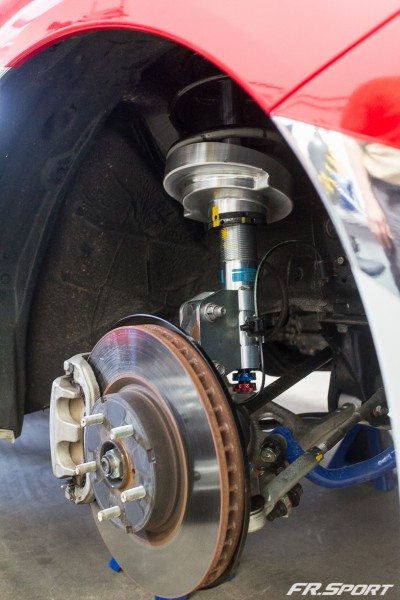 So, the first run with the new setup started out great by heading down a slalom. The new shocks combined with the front bar made the car a transitional animal, but then came sweeper… oh no, more under steer than ever!! I think the extra grip of the Bridgestone tires was a factor, but the rear alignment also looked off to me. I really wanted to have some toe out in the rear, and to my eye, it looked toed in. Sure enough, the guys at FRSport found that their laser alignment system had gone out of calibration, and quickly fixed the issue for the last practice weekend before Nationals.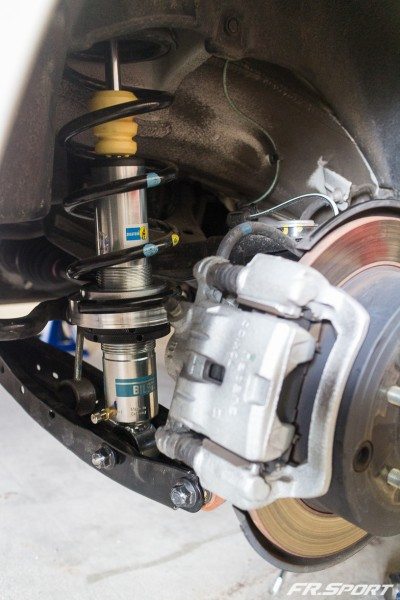 Leading up to that final practice a month before Nationals, I was pretty nervous that we would not be able to fix the under steer issues at this point. Almost every other top level 2015 WRX in the country was running a big rear bar to combat the situation, but both Guy and I felt that if we could get the car to rotate with the big front bar, we would be have the best of both worlds going into Nationals which traditionally has transition heavy courses. So, I talked with some experienced Street class friends, and they advised me to try much higher tire pressures in the rear along with the revised alignment. I thought I was running pretty high pressures, but I was assured I was nowhere close!
So, I picked up the car for the final practice, checked the alignment and it was right where I wanted it. I set the new rear tire pressures and headed out for the first practice run… with an awesome drift around the first sweeper. I was ecstatic. We spent the rest of the day dialing in the rear tire pressure to get just the right balance, and getting my new co-drivers for Nationals, Kevin and Jessica Pao, some much needed seat time.
So, on to the Nationals week in Lincoln, Nebraska, I drove the car out the 1500 miles, averaging what I thought was a pretty remarkable 31mpg. I was pulled over for doing 88mph in an 80, but the cop let me off with a warning after I told him where I was heading. "I love autocross", he said!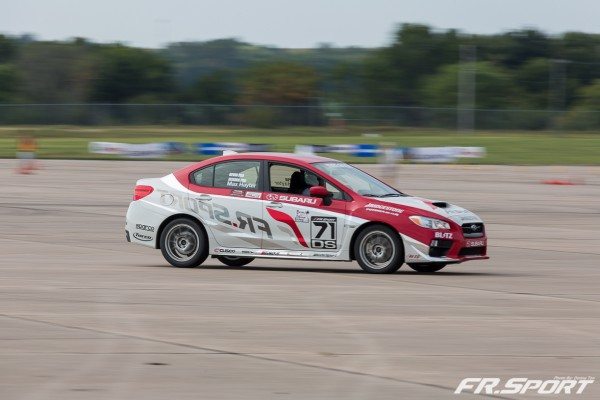 First up was the Pro Finale. Three of us had a chance to the D-Street title… myself, Dennis Sparks in a 2015 Subaru WRX, and Ron Williams in a Mini. The course was a little disappointing to me as there really weren't any transitions which I felt would favor my car. All straights and sweepers. Nevertheless, after Saturday runs, I had the lead and was hoping I would pick up time on Sunday morning. However, I did not, despite feeling I was driving well. After my 2nd run, I saw that Dennis had put down a great time on the left course, putting him into the lead. I then went for my last left, picking up a little time, but not enough. Okay, my final run on the right… I better get it done right now. I launched with a near perfect .501 light, and felt I drove it great. However, the clock said otherwise and I did not improve. Dennis took the win with me in 2nd.
I was pretty disappointed, as I really felt that the Pro was my best chance of winning a Championship. After we were done, Ron Williams came up to me and told me that he thought my car was lacking in front camber compared to the other 2015 WRXs. I hadn't really paid much attention to this, but Guy and I went to work the next day and we were able to move the camber bolt just slightly more. I didn't think it would make much difference, but the camber gauge said we had gone from -0.8° to -1.4°… a huge increase in a street class car. This made me feel much better about my chances later in the week, as I now felt my car was on an even footing, and after walking the courses, there were plenty of transitions to be found.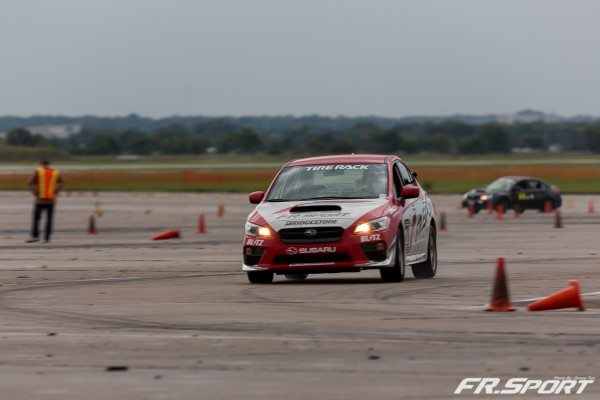 So, on to the National Championship. As all the cars are getting into grid on the West Course, I happen to look up and notice the sky looks funny. At first, I thought it was just my sunglasses being dirty, but no… that's definitely a really dark sky coming. Sure enough, ten minutes before we due to start, I'm feeling the occasional drop of rain. This is when driver number becomes important… if the conditions are worsening, you want to be a first driver. When I signed up months before, I knew that DS was running at the end of the day, and from previously experience, a late in the day storm is not unusual, so I signed up as first driver. Not all of the favorites were so lucky, especially Ian Stewart who was considered to probably be the fastest WRX driver in grid, who had the very last number!
As I get strapped in the car, the rain starts to come harder and as I pull to the line I know that if I cone this run, my chances of winning will be all over. "One run and done"! My run is ok… slightly off the cones and the car gets away from me slightly in the back section as the course becomes damp. Still, it was not a huge mistake and I cross the line in 3rd, 0.3 seconds off the lead. I haven't won it on day one, but I haven't lost it either. Some other early drivers are much faster, but they all hit cones in the process. As conditions become full wet, I can relax a little and I enjoy running some good times in the wet. The car feels fantastic, but my unfortunate co-driver, Kevin, never gets a shot at a dry run with the worsening conditions.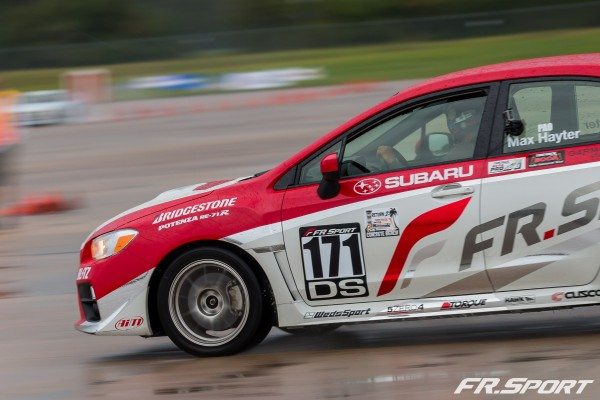 The East course the next day is fast and reminded me of the type of course we run at El Toro and Crow's Landing. I'm hoping that the fast course will play to my advantage. However, I'm a nervous wreck. This is the first time in 10 years that I have a legitimate shot at a National Championship, and I'm an emotional basket case. That morning, I watch a friend lose a Championship by thousands of a second, and I nearly burst into tears imagining how he must feel, and how that would make me feel if it happens to me later in the day. I go hide in my trailer for a few hours and try to relax.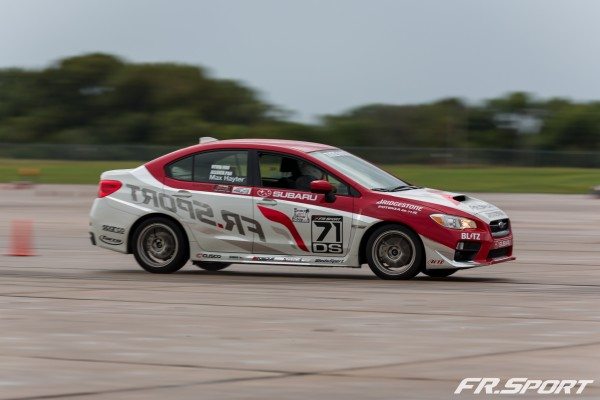 My first run moves me up to 2nd spot, just 0.077 out of the lead. I know I was wide around the first sweeper, so I vow to tighten that up. Guy gives me a pep talk… "Go now… go fast on your 2nd run… put pressure on them… this is the time". I resolve to do just that, and I don't think I have ever felt more determined at the start line. It's a great run… I hit all my marks with aggression and I drop 0.8 seconds to take the lead. I know someone is going to have to go really low now to beat me. Beginning 3rd runs, I try to go even faster, but make a mistake in the back section braking too much and losing momentum. I come in and essentially repeat the time from my 2nd run, so I know there is more time out there. However, only Ron Williams in the Mini is faster than me, and he was out of contention after coning his first run the previous day. Friends are coming up to congratulate me, but I don't want to celebrate until all the cars are finished. My wife calls me just as the last car is on course… "Did you win, honey?" "Ummmm… hang on… pause while it finishes…yes … sob, blub… gotta go sweetie, I have to do an interview"!!
The celebrations then began in earnest, beginning with a bottle of champagne that Brian Peters handed me. Looking back, I fully sympathize with those 2nd drivers who never got a chance to show their true stuff on day 1, but I do take comfort that on Day 2, I was the fastest WRX and therefore, at least in my mind, I let them know that I did not just luck into the victory. As I've learned in 10 years of trying, sometimes, it's just your time to shine.
I would like to thank all the fine folks at FRSport, especially Dung, Terrence, Donny, Guy, Adrian and Catherine who have welcomed me into the FRSport family, and have made events his year so much fun. They have fully supported me the whole year, and Guy even drove all the way to Nationals without any intention of driving, just in case he could of be of any help. As it turns out, he was probably more help to me personally than he realizes as he helped keep me calm and talked me through my raging emotions!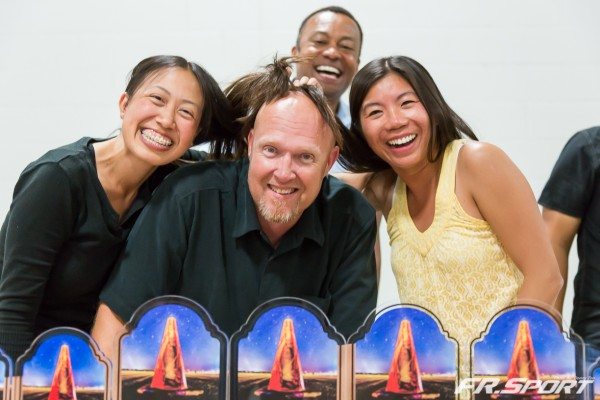 Thank you all for an amazing year.