If you have read the last article about Hainan Chicken Rice (Hainanese), then you'll know that Savoy Kitchen was next on my list. The last time, I went to Dong Nguyen in Alhambra as well. Each place have distinct differences and variation.
On Saturday, I worked long hours on the Lexus GS300.  The 2JZ needed some "love", and it was about time I gave it some. I replaced a few parts including a brand new Koyo OEM Radiator, Toyota Thermostat, and Toyota Prediluted Coolant. I had a brand new Water Pump in my hand, but I realized it was such a bull to get to. If you want to change the Water Pump, change the Timing Belt as well since the pump was behind the timing belt. Unfortunately I didn't have the Crank Pulley Service  Tool. Fortunately, I still have about 50K miles on the timing belt, so a revisit will have to be next time.
After 4-5 hours of doodling around, I finished and it was time for some love in my belly. I called up Mike. I said we're leaving to Savoy in 10 minutes.
It was my first time at Savoy. The place is very small, but homey at the same time. It was packed.  We ordered 3 Hainan Chicken Rice (what they're known for), a Chicken Curry Rice, and Garlic Butter Escargot. The Hainan Chicken was accompanied by this interesting "red" sauce. I speculate that this is the secret here :), but let's move on. Initial bite of the chicken was very moist, the skin had a nice jelly texture (which means they dipped it in cold water after it had been boiled to perfection), and the meat was definitely flavorful. You can taste the garlic and the  sweet flavor of chicken stock. The rice was semi dry, a little less oily than expected, but some people may prefer this. The red sauce has hints of chili, sweetness, and garlic. It was not too thick and not overpowering and that is a good thing. The sauce complements the chicken for those who likes their meal a little spicy.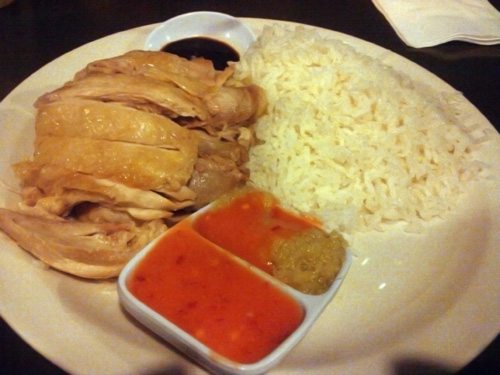 Comparing with Dong Nguyen, Savoy had better chicken and sauce. The chicken was more moist and soft. The red sauce complements the chicken. Dong Nguyen's chicken was still good, but their thick pounded ginger sauce made it worse. I have had better ginger sauce. The rice at Dong Nguyen was more oily and in fact, I liked it. Savoy's rice was less oily and less flavorful, but it will come down to personal preference.
Next on my taste buds were the Garlic Butter Escargot. It is a bold dish. Not many people dare to eat Escargot, but unfortunately for these snails, I'm not one of those! The taste is strong. When all the flavors mixed, it was a party in my mouth. What a delight. The garlic butter was definitely salty, creamy, and powerful. By the way, we found that the Garlic Bread dipped in the Garlic Butter sauce and soy sauce was very tasty. That should be an a la carte by itself.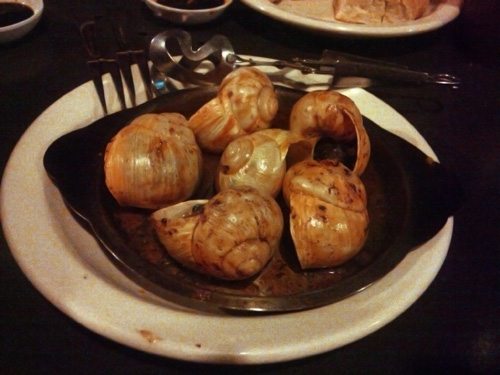 Unfortunately I wasn't able to try the Curry Chicken Rice, but that just means I have more of a reason to go to Savoy again. Until next time!