This year the 2012 SEMA convention floor was home to various project cars, companies trying to expand their reach, and manufacturers putting on display many of their products. As the FRSport team walked around the show floor, we gathered many great photographs of cars,  models, events, and of course the items to be released in the near future by manufacturers.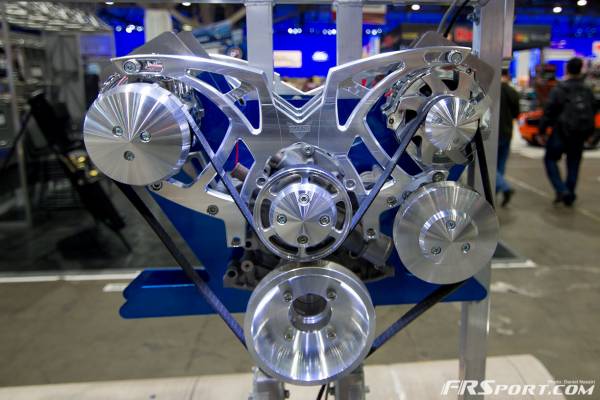 There were engine components set up in visually striking ways.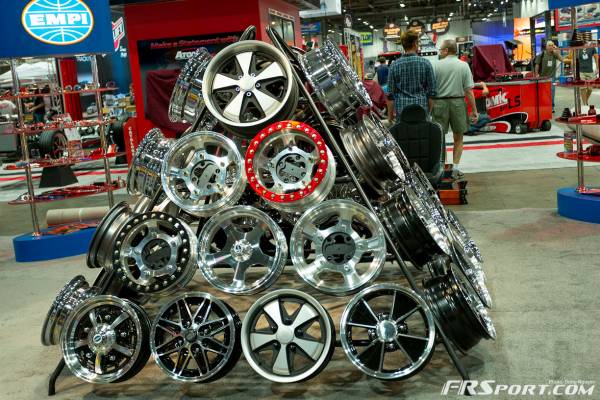 As well as wheels…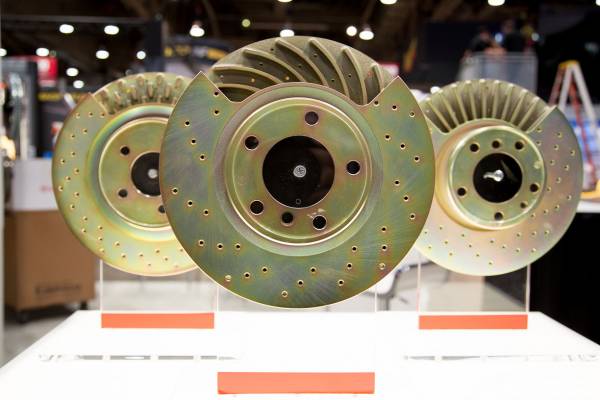 and even carefully placed brake rotors, like this arrangement of Brembo units.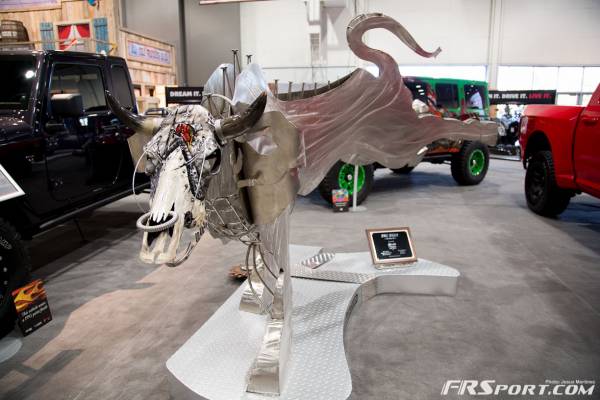 All through out the show, manufacturers engaged in this practice of artistic arrangement and while many were certain to attract our attention, only a few products really stood out versus other ones; both for their visual displays and the product's functionality.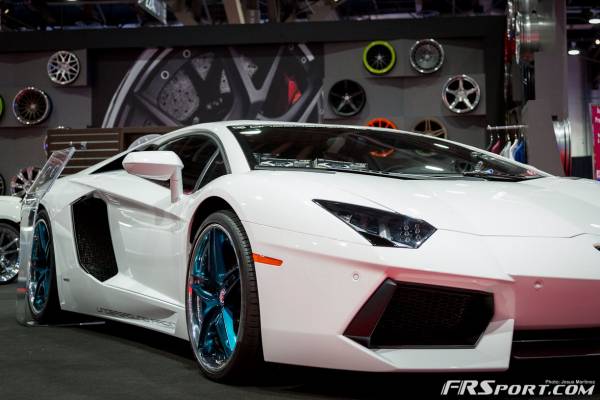 One of the manufacturers that really struck a chord with me, mostly because of their products, was HRE Wheels. They had a prime spot on the show floor and used it to its potential.
Not only did they showcase all of their wheel designs on the walls, but they also displayed a neat example of how a wheel began production as a cylindrical metal object and then was carefully massaged by CNC machines to become the object of many people's dreams.
During the week they also demonstrated a very special and exclusive wheel, scheduled to be released early 2013.  The Carbon Series CF2.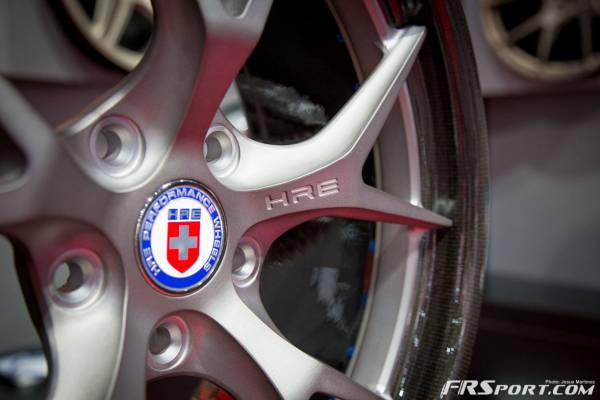 For a mere $15,000 per wheel you too can differentiate yourself and your vehicle (Or you could always get a funky new, hipster haircut). According to HRE, the new CF2 Carbon Wheels utilize a full carbon-fiber rim barrel fitted to one of HRE's forged aluminum centers. It was further explained that the lightweight carbon-fiber rim barrel in conjunction with titanium fasteners and the previously mentioned forged centers, will maximize strength, minimize mass and rotational inertia. All this according to HRE, netting you a weight savings of up to 25% over a typical forged aluminum wheel. Pretty impressive.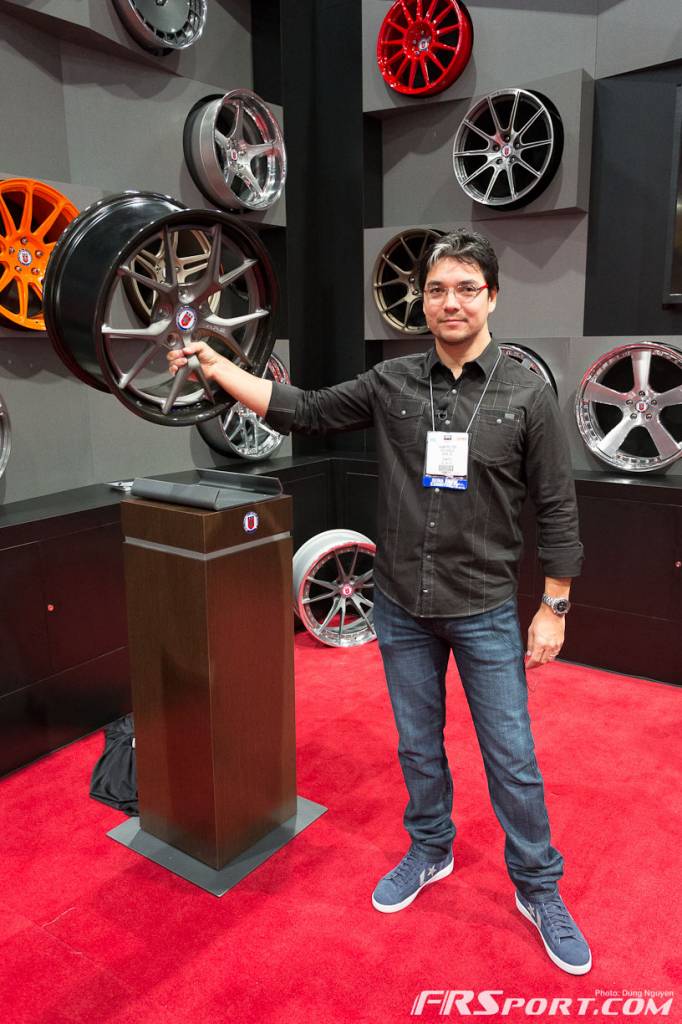 Here is a shot of the man himself, president of HRE Wheels Alan Peltier, holding up the ultra expensive and ultra exclusive wheel.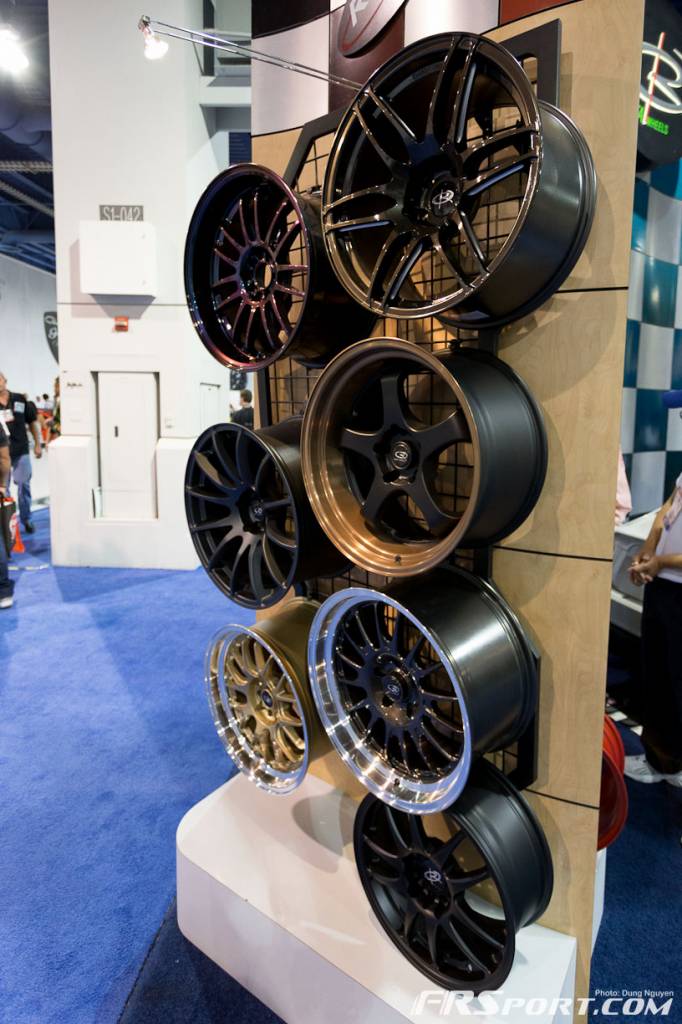 Not all wheels at SEMA were super expensive units  however. Here we spied a selection of wheels soon to make their way out into the wild. Rota has been making some very affordable wheels throughout the years and these sets should follow the same money saving recipe. They are sure to turn some necks and make our wallets breathe easier when they are released.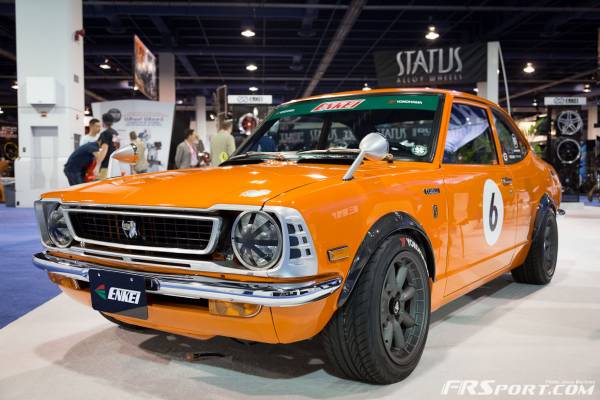 Our good friends at Enkei were also at the show demonstrating a few new wheels as well. A couple of them were aggressive tuner style wheels, available for viewing here. The other one was a retro-styled example called "The Apache II".  It was specially fabricated to fit that retro-classic many people seem to be bringing back to life. Above, this super clean Corolla, sports some vintage 8Spoke Enkei wheels as well (not the Apache II).
At the end of the day it could be easily said that the selection of wheels, turbos, machinery, and pretty much anything you can think of for your vehicle was available at SEMA. It was truly a wonderful experience witnessing the innovations that are in store for us car enthusiasts and I for one am truly excited for what's to come.