Downtown Los Angeles is one busy part of town. There are one way streets, un-common traffic symbols, and hordes of pedestrians walking through the streets. The Traffic just to get to Downtown L.A.  from Orange County on a busy Wednesday morning is enough to make one lose their hair. Braving all this on a day-to-day basis is something I would not like to do; that is unless the L.A. Autoshow was in town and the chance to document it through pictures was at stake. On November 28th, 2012 this was the case and FRSport braved horrendous traffic (We actually had a Fastrak device so it wasn't that bad) in order to attend the first day of "Media-Day" at the L.A. Convention Center.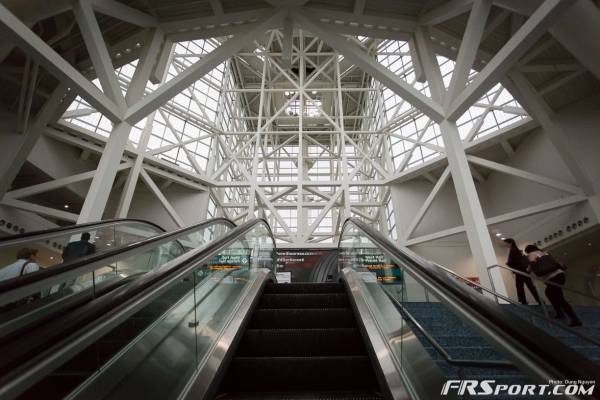 When arriving through the halls of the convention, one is always awarded with beautifully exposed architecture and expansive openings.
That actual morning the team had gotten up too early and had bypassed the most important meal of the day, Breakfast. Luckily the folks from Autotrader.com had set up the "Media Pit Stop" and came to the rescue with fresh juices and a choice of either sausage or ham sandwiches.
Having fed our bellies, we continued towards the show and arrived in a section displaying various concept's.
This concept by Frederick Naaman has been making its rounds around the auto industry. The future Mazda SUV was also spotted by us during this year's SEMA convention.
As we actually entered our first hall, the West Hall, we we're greeted by a lovely Honda prototype. The "EV-STER" has been around for a couple of years and fans have yet to hear credible plans for its production. "Go ahead Honda take a chance!"  I thought to myself.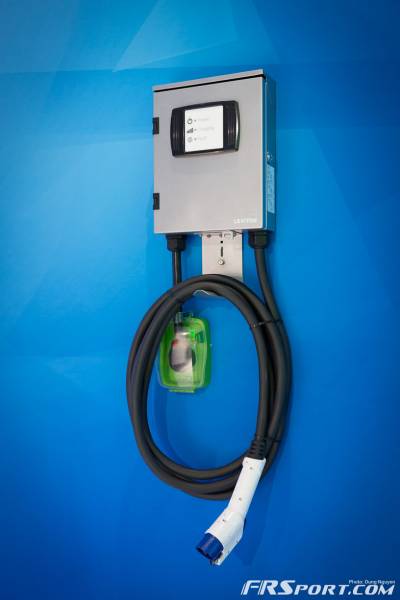 While many cars like the EV-STER remain in concept limbo for years it seemed that at this year's show many actually saw the green light for production. These charging stations could be found throughout the show and foreshadowed the abundant EV (Electric Vehicle) representation.
As we continued to walk and photograph the show, we quickly realized that the media sure got pampered.
Various car manufactures had food, coffee, and plenty of seating for people  like us documenting their cars. Some amazing car manufacturers *Coughs under breath, NISSAN*, even had booze on hand!
Perhaps it was to take in the extravagance of the Deltawing a little bit more relaxed? Who knows, but they sure were attracting plenty of attention with said race car.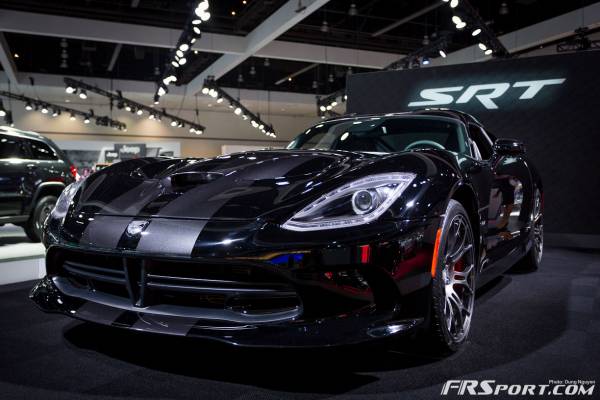 Moving on from the extreme to the more down-to-earth cars, we arrived at the domestic area. Here American companies like Ford, GM, and Chrysler had all their best cars on display.
It seems that after the bail-out, a lot of these companies and their impact on mainstream culture seem to be increasing. The big three's car selection appears to have benefitted aesthetically in recent years as well.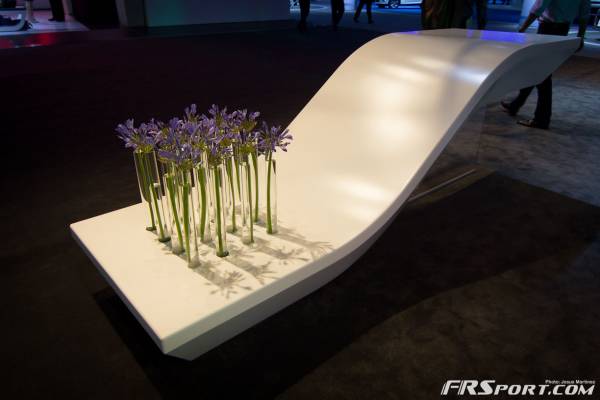 Speaking of aesthetics, the Los Angeles Autoshow, I think, is the place to see some very tasteful displays and visual stimuli. Take this bench for example. It was not made for people; it was designed for these lovely flowers to adorn the walkways of the Lincoln booth.
Here the Toyota Fun-Vii concept takes flowers from the conventional pot and places them on its side. Why you ask. According to Toyota, this concept enables the car to adapt better, visually, to its surroundings.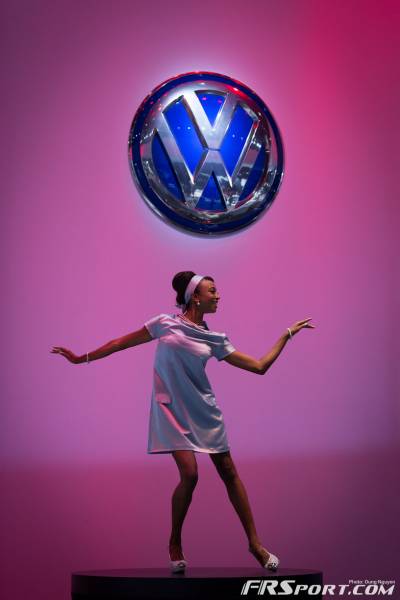 VW also had an amazing display of booth visual and aural stimuli; bringing the masses towards its booth.
In order to properly introduce their newest Beetle models, this very talented DJ spined some classic 60's tunes for 4 dancing ladies at their booth.
The Subaru BRZ needed no flashy gimmicks however. The sales of this car and its Toyota brother, the FR-S, have been off the charts.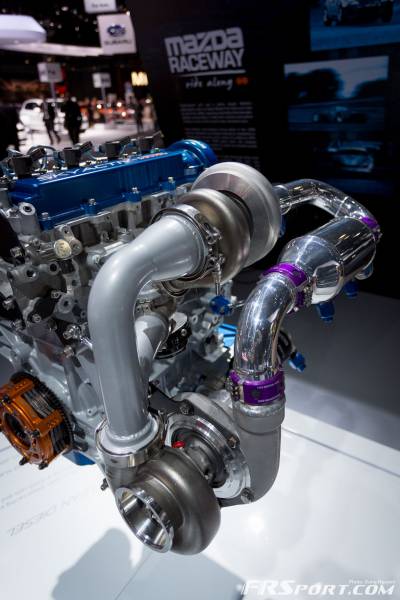 Another Japanese manufacturer, Mazda, had some great looking engines on stands too.  Check out this crazy  turbo set up. This "SKYACTIV" engine variant looks like one turbo speeds up a second turbo, virtually eliminating or at the very least reducing turbo-lag.
Rounding the corner of the Acura booth, I bumped into the next NSX Concept. The L.A. Autoshow  was its North American debut and people seemed to crowd around it for the entirety of the show. Make sure to take a full look at it in our gallery.
It was amazing to witness just how far some of these manufacturers are pushing the limits of design through the exteriors of some of these cars.
The same could also be said about their interiors.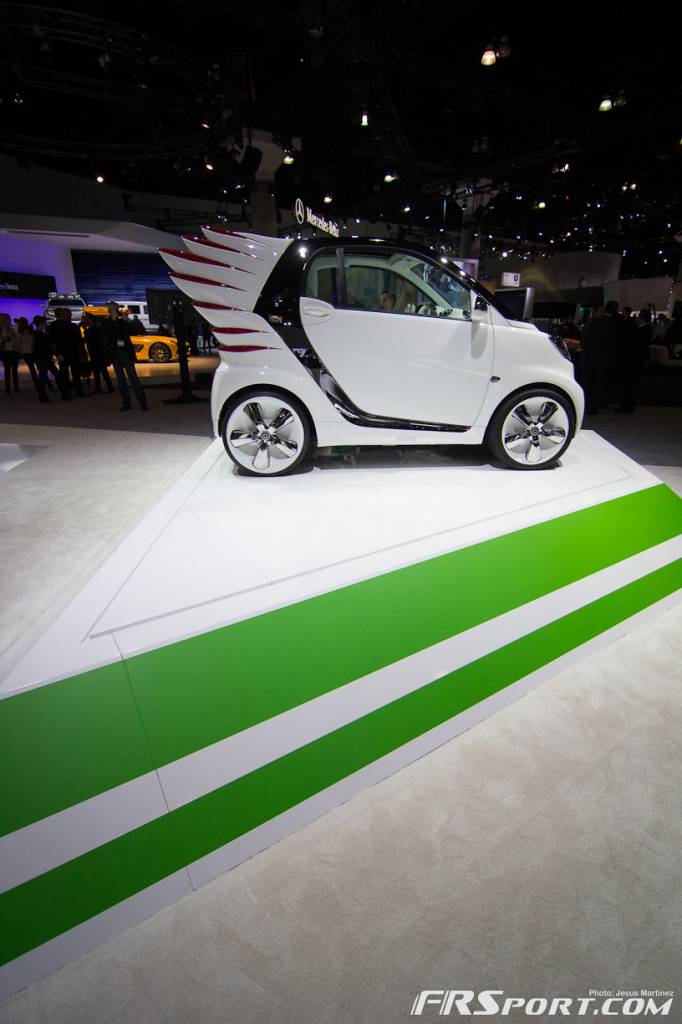 So much innovation, whether it be technological or visual was at the show, that describing all of it is nearly impossible. The sights and sounds within the L.A. Convention Center were truly something remarkable; specially when you can take them in during a calmer setting like the media day was. It was a pleasure attending this event and sharing it with you as well. For more images please be sure to check out our gallery of the best sights and sounds of the 2012 L.A. Autoshow. So big in fact that we actually had to make two galleries. Enjoy!
Part 1: The West & Concourse Halls of the L.A. Autoshow
[button color="#FFFFFF" background="#FF7F00″ size="large" src="http://heavythrottle.com/event-coverage/car-shows/2014-l-a-autoshow-coverage-part-1/"]View Gallery[/button]
Part 2: The South & Kentia Halls of the L.A. Autoshow
[button color="#FFFFFF" background="#FF7F00″ size="large" src="http://heavythrottle.com/event-coverage/car-shows/2012-l-a-autoshow-coverage-part-2/"]View Gallery[/button]