With the 2013 Tokyo Auto Salon almost here, sneak-peeks and renderings of debuting products are starting to come to light. One example is this very aggressive looking FR-S by Abflug & Pentroof. Abflug calls it the Spiral 86 Aero Kit.
From their Japanese web site it seems that Abflug is taking care of the exterior while Pentroof is working on further developing the engine and its output. While they do post some of the modifications of the FR-S (or GT-86 there) they don't actually say how much horsepower the HKS Supercharger is actually producing. Nonetheless, the beauty and wide openings of this aero are sure to bring to it some attention. We will see if it will be enough to dethrone the current king of FR-S/GT-86 aero, the "Rocket Bunny" wide body kit from Kei Miura.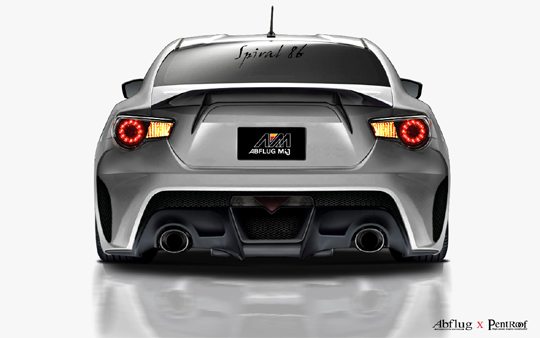 The Tokyo Auto Salon will take place from January 11th to the 13th at the Makuhari Messe International Exhibition Hall in Chiba, Japan. For more information on the Spiral 86 Kit please visit Abflug's website here (Google Chrome can help you translate a bit).