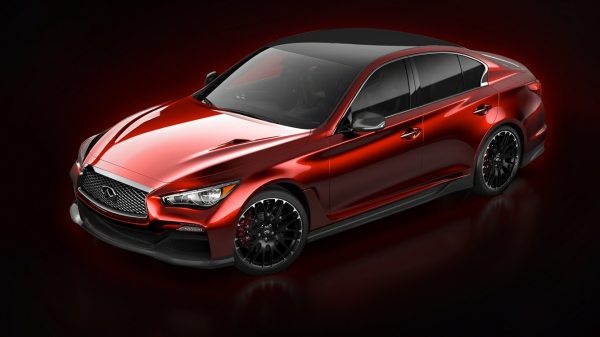 Formula 1, Red Bull Racing, and Infiniti. All these names are now legend in the race world, but not because Infiniti makes great performance bred cars. No, these names are famous in the racing industry because Sebastian Vettel races for the RedBull Formula 1 Team, which is sponsored by Infiniti, and in the last few years has pretty much obliterated the world and the competitors in Formula 1 Racing. Now its time for RedBull and Sebastian to contribute some of their knowledge. After all this time and some weird previous collaborations Infiniti and the racing team are teaming up for what may be their first true performance car collaboration, The Q50 Eau Rouge Concept.
Infiniti went on to state in a late press release that the very special Q50 Concept was to debut at the 2014 North American International Auto Show in Detroit on January 13, 2014. They even have a really innovative marketing campaign to help debut the car sooner. This car is said to have been developed in close collaboration with the Formula 1 team and has borrowed a few tricks from them as well. Items incorporated into the concept include a carbon fiber body, front and rear Formula 1 inspired carbon fiber splitters, a dual-exit sports exhaust system, and enormous 21 inch lightweight wheels. It will be interesting to see where this car goes on from here. Will it retain the Q50 donor chassis in a later production model or is this just a sinister tease for the GT-R variant they have been so loudly clamoring for. Stay tuned.
(Source: Infiniti)
[youtube height="HEIGHT" width="WIDTH"]http://www.youtube.com/watch?v=FsXYUWPobGc[/youtube]
(01/08/2014 Update)
The Q50 Eau Rouge Concept was officially revealed at the 2014 North American International Auto Show. Make sure to check out the recently updated images of this refined beast in the gallery below, simply click the orange button.
---
View Full Gallery
[nggallery id=54]