This past weekend was full of fun & excitement at the 2014 El Toro Pro Solo. A lot of locals as usual, but since this was a National type event, we also had lots of competitors from out of town: San Diego, San Francisco, Arizona, Nevada, and even further. The entire week leading up to the Pro was hectic for most people – getting last minute replacements or upgrades and working well into the wee hours of the night. I actually ran into some issues where I couldn't run my new race rubber because of body kit rubbing issues, so I was still on my old R-Compounds; talk about bringing a knife to a gun fight! Full pictures can be found on the 2014 El Toro Pro Solo photo coverage blog post on FRSport.
Anyway, enough about me, let's get back to business. So, a Pro Solo is similar to an autocross event with an added twist: a drag race start between two cars on mirrored courses – best time on each side out of 12 total runs over 2 days counts. It's a fantastic combination of autocrossing and drag racing. Also, unlike traditional autocrosses where you wait some time between your runs, you take 4 runs (2 on the left course, 2 on the right course) almost back-to-back in a single heat for 3 heats total over 2 days. There's no time to make many adjustments during a heat, so you have to work with what you got. Many competitors will have someone help them dial-in and maintain tire pressures, but there isn't much time for anything beyond that. This is definitely my favorite format of autocrossing & I'm super happy that I have a car to run at this event after so many years of missing it. For those who want a more in depth description of Pro Solo, please check the scca.com web site or this awesome article written by one of the autocrossing veterans a while back.
For this event, I drove my 240sx in X Prepared (Race Tire 2 combined class), Cat drove the FR Sport BRZ in STX under the Ladies 3 class, Jon drove the FR Sport BRZ in the open STX class, and Dung drove the FR Sport WRX in D Street under the combined Street A class.
Cat was up first & had her work cut out for her. The Ladies 3 class was filled with proven Nationally competitive cars as well as National Level drivers. Some minor upgrades to the BRZ had been done since the last event; the Perrin Intake System for the BRZ and BF Goodrich Rivals on Enkei RPF1's.
QV: Great job driving this weekend, Cat. Can you give us a brief recap on some of the changes on the FRSport BRZ and the overall general feel of the car on the new setup?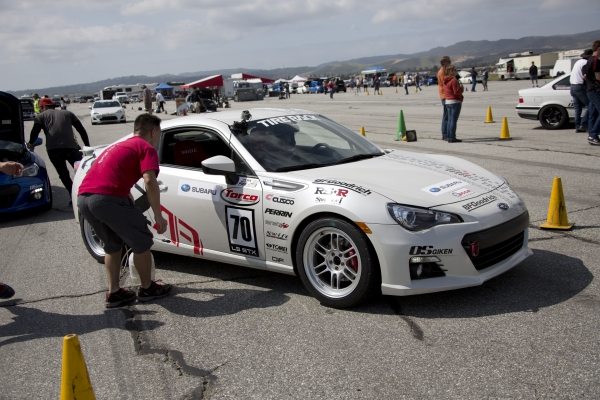 Cat: During, before and after the Pro Solo, I was in crazy mode. There were so many mixed emotions going on. I was happy, excited, scared, nervous, tired, and that's just naming the top of the list. The guys at FRSport worked many days in a row to prep the car. It was aligned and adjusted. We were driving on some new tires. It's the BF Goodrich Rivals. They're really nice. It grips very well. Combined with the set up of the BRZ, the car felt planted. I really loved how it handled and how maneuverable it was. We added on some front and rear Tanabe sway bars. There's a Perrin intake and Raceseng pulleys. And just for kicks, there's a Raceseng tow hook with a GoPro mount. There was a lot to get used to on the car in a short amount of time.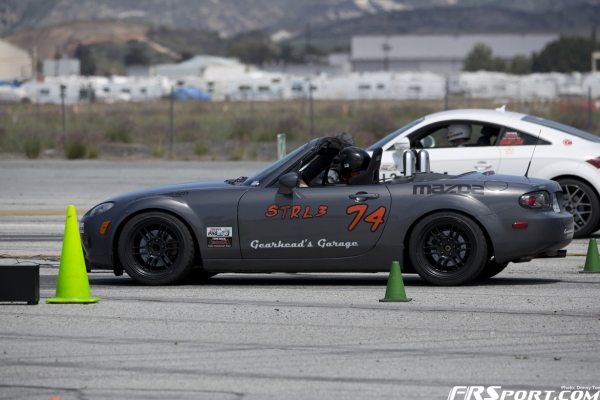 The Pro Solo is a great event to gauge your skill level. It's a national event that brings in all types of skilled drivers. In the L3 class, I was racing with so many great drivers. All of us with completely different cars and set ups but times still very close. Each run changed up your position on the times. You could be 2nd place and then at 5th place another run later. It was intense. The ladies in my class were so amazing and awesome to race with. They're all so silly and made an intense race feel so fun and professional. I had such a great time and can't wait to do it again next year!
Later in the STX group, Jon, who normally competes in his "run what you brung" 240sx, was competing in the FRSport BRZ for the first time. He did admirably considering this was his first Pro Solo and first time driving this car. Although he didn't win the class, he had a second opportunity in the Bonus Challenge (an elimination tournament of drivers who didn't win picked from a raffle at the end of the normal competition).
QV: How was your first time ever driving the FRSport BRZ at Pro Solo? How do you compare this other events you have participated in?
Jon: This was my 2nd ProSolo; my first one was last year in 2013 which was a TOTAL BLAST TO DO!  But this was my first time ever racing/autocrossing in a BRZ, which seemed a little intimidating to me since the car was semi-unknown to me (I have driven an FR-S in autocross practices a couple of times); on top of that, I would be doing this at a Pro Solo competition, which features some of the highest level of talent that SCCA Autocross has to offer.  I got over the intimidation after my first runs in the car as it responded and acted like an FR platform should. As the competition went on, I got more and more accustomed to the little idiosyncrasies and quirks of the car which I adapted to. It was so much fun driving and racing the FRSport BRZ despite the lack of seat time I had in the car.
For me, Pro Solo is at a totally higher level of fun than other events I have participated in because it's unique in that it is Autocross combined with Drag Racing complete with the whole tree.  And instead of going down a strip of asphalt in a straight line against another racer, you race down an actual course that are near mirror-images of each other with turns, sweepers, and slaloms.  Sounds simple and easy right? Actually, it is far from that as there is a whole different level of stress as not only does knocking down a cone almost certainly nullifies your chances of scoring a fast run BUT if you red light at the tree, your run is over even before it even begins. Oh, and did I mention you have to take 4 runs back-to-back, alternating between 2 runs on the left course and 2 on the right course???  Yep it can get a little bit stressful, but hey, it's competition!
QV: Congrats on winning the Bonus Challenge at the 2014 El Toro Pro Solo! Can you give us a play by play of what was going through your mind at the start of the Challenge & then the final round?
Jon:
At the start of the Challenge, I was visually running both the left and right courses through my head as much as possible since I did a "data dump" after my class competition runs were over since I thought I wasn't going to run again.  So after a quick systems recovery and restoration, I was good to go and kept telling myself over and over: "Don't hit ANY cones AND don't RED LIGHT!"  If I did either of those things, my chances of winning would drop significantly. Along with that, I told myself to drive consistently as much as possible as that would help with my chances greatly.  The battles I had to go through to get to the final round were completely nerve-racking as each subsequent round turned up the pressure just that little bit more.  To cope with the pressure, I shut everything out of my mind and focused solely on my driving, something I learned from my Gymkhana competition days.  I basically went into a "zone" in which my mind slowed things down visually when I was going through the corners so that I could see everything on the course in much finer detail BUT in reality, I knew things were whizzing by fast. This is a level I only really go into during serious competition.
Here are the cars I went up against in order to the final:
Round 1 – Subaru Impreza ("ESP" or E-Street Prepared Class)
New Subaru model versus older Subaru model, young lion versus old lion.  Excuse the cliches but that's what it boiled down to although the Impreza I lined up against had slicks versus the street tires on the BRZ I was driving. I started on the left course and was ahead by a few tenths after the run. Then we switched as I ran the right course and came across the line first beating the Impreza by almost a second. This battle was the easiest but the next round was something I didn't think would ever happen.
Round 2 – Shifter Kart ("KM" or "K-Mod" Class)
My first thought before I went up against the Kart: "I gotta go up against a Kart??? How the heck am I going to win against that?!" Talk about David vs. Goliath personified in the autocross realm!  I told myself to not give up just because it was a Kart so I went out drove the left course first and found myself about a second behind unfortunately.  Despite knowing that, I told myself to not give up so I went and drove the BRZ hard on the right course as if it was going to be my last run of the day.  And guess what? I ended up winning by a couple of tenths over the Kart!  I couldn't believe that I just beat a Kart and was going to the final round!
FINAL ROUND – Hyundai Genesis ("FS" or F-Street Class)
I had to pinch myself and do a reality check a couple of times before the final round started as I said to myself "Am I really here in the final round?!" I told myself yes, I am in the final round and that I better drive the fastest I've ever driven the whole weekend.  Starting on the right course, I drove the BRZ hard as I hustled it through the corners.  As I crossed the line, I was hoping I was ahead but then heard from the announcer that I was behind by a few tenths.  Load super-high-level-precision driving mode: Before I took my final run on the left lane, I told myself  to lay it on the line and leave it all out there on the track so I drove to the limit and beyond, pushing the BRZ in a way that I didn't before.  I crossed the line at almost the same time as the Genesis and hoped that it was enough to take the win. 
Sitting nervously in the car, I waited for what the announcer was going to say and he said that I finished a few thousandths behind the Genesis BUT because he hit a cone on his run, it added 2 seconds to his time so that made me the WINNER OF THE CHALLENGE!  Upon realizing that, I bounced up and down in the driver's seat and stuck my hand out of the window in triumphant fist-pump as I couldn't hardly contain myself!
So all in all, it's safe to say that it was a successful weekend for myself but more so for FRSport as the tuning and the development of their BRZ shows that it is definitely a winner.  I still kind of have a surreal feeling of "That really happened, didn't it?" Guess I gotta keep pinching myself until I realize it did happen. On that note, I would like to express my gratitude and thanks to FRSport for letting me drive their BRZ in the Pro Solo along with the FRSport crew that helped me during the Bonus Challenge because without you guys, I would not have won.
This victory is for all of you who work so hard at FRSport! I am completely and utterly honored to have represented you, thanks y'all! 
Also competing in the STX group was FRSport's very good friend from OS Giken, Mike Yanase. Mike was co-driving Max Hayter's Nationally Prepped Subaru BRZ. The competition was fierce with the top drivers swapping positions all weekend ultimately being decided by thousandths of a second!
QV: How was co-driving in Max's Nationally Prepped BRZ for the Pro Solo?
Mike: What can I say? Max built an exceptionally well balanced BRZ. His BRZ has the perfect blend of power, suspension, tires, and OS Giken differential. It didn't take much to adjust from our C-Street prepared FRS to get into his car and put down competitive times. I would like to also credit Annie and Sean for their feedback to help me adjust accordingly.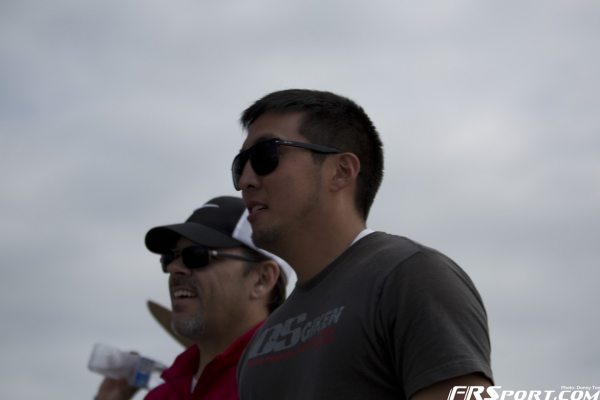 QV: Congrats on the win in a super tough class! Can you give us a recap of what was going through your mind on your last set of runs on Sunday?
Mike: Thank you very much. It still hasn't completely set in. Going into Sunday I honestly just wanted to keep my trophy position. If you take a quick glimpse at list of STX competitors, there are a lot of heavy hitter names that were within a shout of winning the class (Hayter, Heikottter, Tsang, Child, Muresan, Schultz, and others). Max had told me prior to my runs that he had definitely left time out there and door was still open. I wasn't even in the trophies going into my final runs on Sunday morning. My mind set was just to drive the best I can and hope that it would be enough to get a high trophy position. I did not think that after my last look at the left course that I would be sitting in 1st place. That probably to date has been the biggest moment in my Solo2 career. I would like to firstly thank Max for the co-drive opportunity. His car is very well balanced and I do believe it will be a top contender in the STX field nationally. I also would like to thank FRSport for sponsoring a set of Enkei RPF-1's. These light rims really gave the car a nimble feel. Lastly I would like to thank OS Giken for providing a stellar differential. On a course that demanded you to be on the power early, we were able to put down the power effectively and efficiently.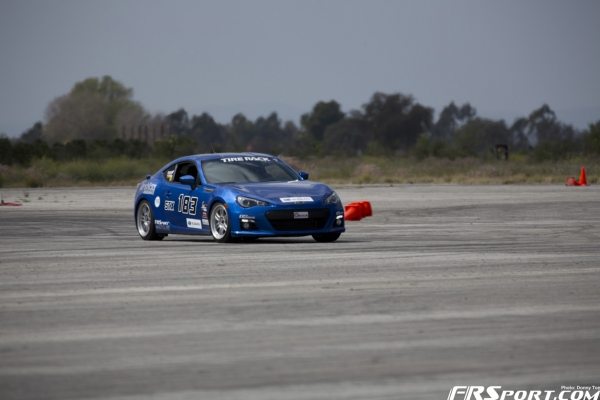 As for me, I was slaughtered :(. However, I was able to use this opportunity for more initial tuning of the car, dialing in tire pressures, and adapting my driving style to best suit the current conditions of the beastly 240sx. Everyone, including my competition, was also very supportive and gave me great advice. We may compete against each other during events, but at the end of the day, we're just a bunch of car enthusiasts sharing our passion and having a great time doing it.
Until next time, here is a picture of a bird (sparrow?) checking out the exciting pro solo runs over the weekend.