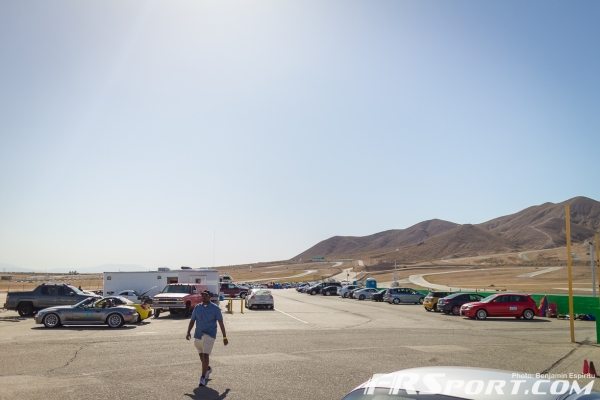 Since February's event with Extreme Speed at Buttonwillow Raceway Park and competing in round two of their Roadster Cup, I have been working on a new setup for my Miata. While buying parts and modifying the car, I budgeted my finances so that I could spend my money on the best modification of all: Seat time. The changes from the last event consisted of newer tires and a new set of wheels, brake pads on all four corners, and new coilover suspension.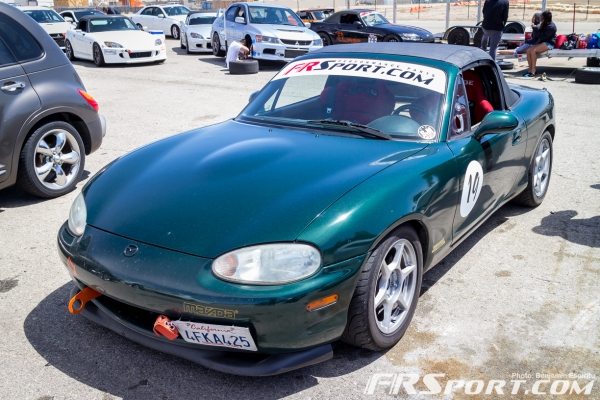 I found myself joining quite a few car friends for the weekend at Willow Springs' Streets of Willow. A 2 day event was being ran by Extreme Speed Track Events; with the Counter Clock wise configuration on Saturday May 10 and Clockwise on Sunday May 11. Since this was going to be my first full two-day event at the track, I could not sleep on Friday night. Anxiety for a great time and excitement to finally be able to go racing again always kicks in when you need the most rest. After getting over the struggle of waking up and driving to the track with my friends; we pulled in to see a sea of cars and their owners starting to prep for the first session. 
Here is a quick list of what I changed since I drove Buttonwillow:
– New Coilovers: Tein Street Advanced
– New Alignment Numbers (Experiment numbers from playing oh so much Forza)
– New Brake Pads: WinMax W3 Front and Rear
– New Wilwood Brake Proportioning Valve
– GarageStar Brake Master Cylinder Brace
– (Used) Kosei K1 with Federal 595 RS-R (Track Wheels)
– Stickers (can't ever forget about the stickers)
Since this was a shakedown for my roadster, I had to make sure I was driving the car to the extent of my ability. Saturday was counter-clockwise and extremely windy. My first thought was that the car was very slippery but really predictable at the same time. The car was very responsive and agile and I was not used to it. Trying to clock a quick lap time, I made the mistake of flicking the car into the turn and ever so slightly lifting off of the gas pedal. That lead the car into the dirt; but at least I didn't break anything. Session after Session, and lap after lap, the track just got slower and slower. I was only able to clock a measly 1:35.6. Already beating my personal best from the track days before hand, I knew that I was developing in my driving and my car was definitely doing me very well.
Confidence was definitely through the roof when I tried to bomb the bowl trying to do a hot lap. Coming up from the back straight with the throttle on the floor, I drove my line up and as I lifted off the throttle, the back-end came around and gave me the ride of my life with a nice full speed spin at the bowl, I flew out backwards into the dirt. (see video) [youtube height="HEIGHT" width="WIDTH"]https://www.youtube.com/watch?v=9e18JfqIIH0[/youtube]
Starting the clockwise day on Sunday, my face was red as a cherry and my glasses tan line made me look like a raccoon. With my face burning as I put my helmet on, we started the Gold (high intermediate) run group. Feeling better after my good experiences with the car, I drove the clockwise configuration with an intent to shave down at least a second from my lap times. My very first session I was already in the 1:35 range, so I knew I was going to do very well that day. The day went on and people kept going off and breaking their cars. I just wanted to drive one more session. That last session was following my friend Tim in his Miata. We finally got a clean lap and while following his lines and throttle inputs, we flew throughout the track. I managed to get a time of 1:33.96x, destroying my personal best and definitely feeling great afterwards.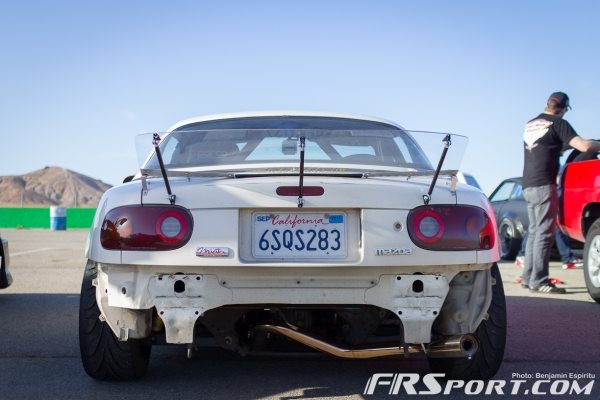 I learned that driving behind someone with the same car and same driving style definitely helps when they are faster than you. I saw his car turn and carry speed, so I made myself think that my car can do it as well. With that being said, driving with friends is ultimately the best time to have out on the racetrack. There's competition and support from each other, and really just sharing the same hobby with each other is always a good feeling. Breaking my personal record topped the weekend off for me. The car was set up well and I learned how to drive it for this upcoming Round 3 of Roadster Cup.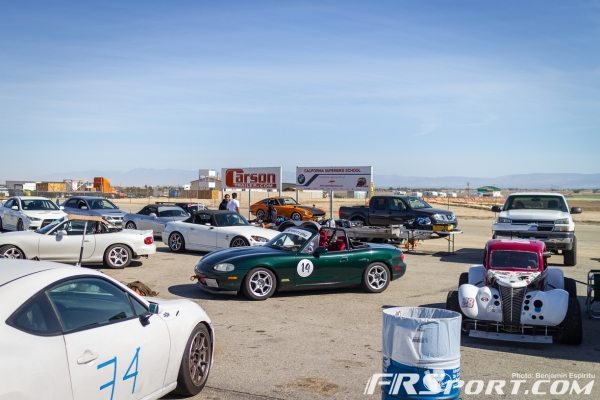 To check out more pictures of the event, click on the gallery button below.
---
View Full Gallery
[nggallery id=69]