While the FRSport crew has been busy tweaking and trophying locally at El Toro during the July 4th weekend & at National Tour/Pro events at Crow's Landing & Packwood, I have been hard at work trimming, fitting, trimming some more, and refitting wider tires onto my 240sx in hopes of being able to run some 25×11 15″ American Racer Tire Slicks. We've had good local success and feedback with using these slicks for the Austin Healey Sprite that I've been running and I wanted to make it fit my 240sx. I got a set of their softest M28 compound and slapped them on a set of Aero Wheels made for circle track vehicles: 15×10 -38 (-63 to clear brake calipers) in front & 15×12 -38 (-48 for testing purposes) with 11″ tires all around (equivalent to about a 305 tire in treadwidth). They are super heavy steel wheels, but they clear 12.2″ rotors, woohoo!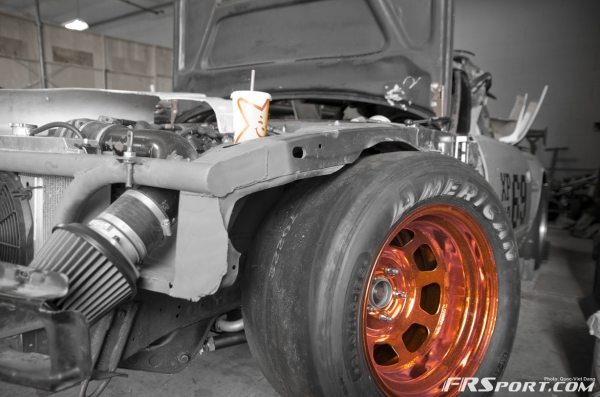 A lot of fiberglass had to be cut – significantly more than when I was fitting the 275's around, especially since the offsets are also much lower. There were other random things that had worked their way loose, but I had time to bolt everything back together. Once again, it was a "fix it until the last minute" type of days, so the alignment is now a little off from needing to fit the bigger wheels, and there is a little suspension bind after some suspension travel, but nothing too crazy that I can fix later. The most important thing was I had new tires!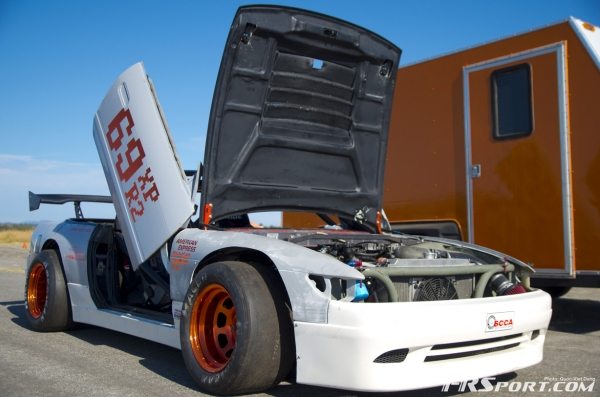 The flares that went on the wide fenders were now rubbing the tires, so I left them completely off. Looks more Nascar than AutoX car, but I'll take it. My overall times considering the class my car is in were still terrible, but I wasn't expecting to set any personal records this early into the game; it's only been about 4 months since this car has been running, after all. My first impressions of the American Racer tires on this higher horsepower setup was "wow, I have grip now!" It was interesting not completely losing grip launching in first gear and also not needing to counter-steer as much as before. In fact, in the video below of my first ever run on American Racer tires in this car, you can see hesitating and pre-counter steering because the car felt like it was about to kick out; however, it doesn't actually kick out. I realized later on that weekend that it was most likely the super soft sidewalls of the tires that were causing this weird initial shimmy/looseness during turn-in. The tire company does make a stiffer sidewall autox specific compound now, but I wanted to test their regular setup first. If anyone has a better idea of what's going on (I could be completely wrong), please let me know.

The car and I are still 2-3 seconds off the pace of local competition, but Sunday's fun runs got me a little bit closer. Now I have to get off my lazy butt and fix the current issues so she can be even faster.
A lot of people like to post their fastest runs of the weekend (I usually do, as well); however, I wanted to posted my very first run – I find it much more interesting seeing how I'm reacting to the car, etc. with the latest setup changes. I have to learn to trust my car a lot more. For Saturday, I improved a little over 2 seconds from this initial run. For Sunday, I did much better in relation to what my competitors were running during the weekend.
[youtube height="338″ width="600″]https://www.youtube.com/watch?v=-W79YfGnHj8[/youtube]