FR Sport and their wonderful staff shared with us their epic selection of Pumpkin carvings and today being Halloween we thought we would share the awesomeness that comes out of their offices when they are not up to their noses in aftermarket parts orders and other tasks. Check out some of the sweet carvings below!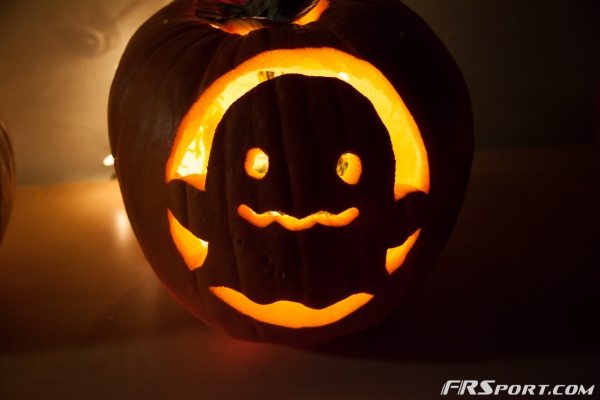 Up first is this cute little ghost. Resembling one of online dating's cutest ghost, this carving has officially been baptized the "The Snap Chat Ghost Carving"! Kudos to the team that put together this magnificent piece of art (coincidentally it is also the pumpkin I helped carve hehe). The cutout was super easy to do and because of that my partner and I carved it cleanly.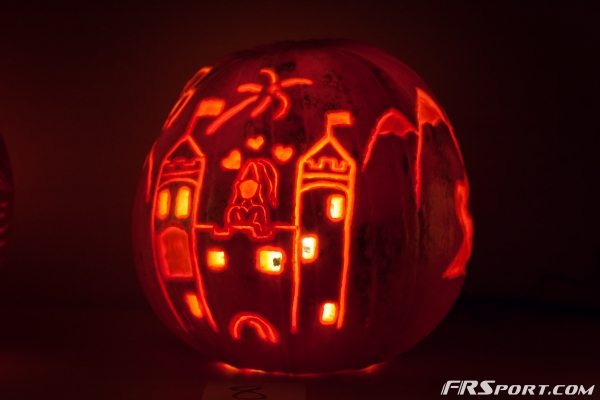 This majestic castle comes to us by the collaboration of one of the FR Sport sales leaders and customer service reps. Clearly this pumpkin had the most etching and turned out to be the winner of the contest this year. What you can't see however, is that on the opposite side, an epic Dragon looks to bring down the castle muahahaha. Ok, maybe the story doesn't go like that but there was no narrative included with the carvings at the time of writing.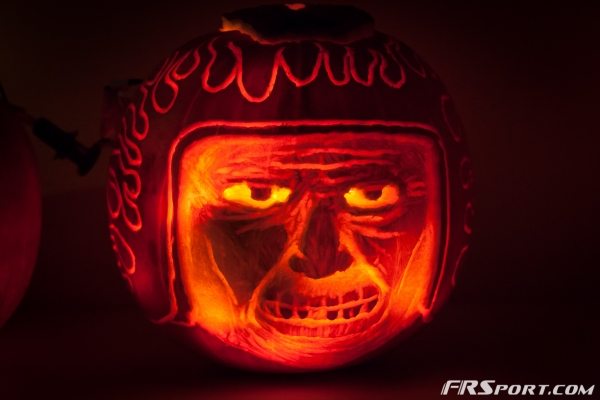 Our runner-up pumpkin was this really cool creation by our personal "Box Artist" and shipping manager Robert Ferguson. This side shows the part where he carved a face on the side of the pumpkin and the pumpkin was supposed to represent an actual racing helmet.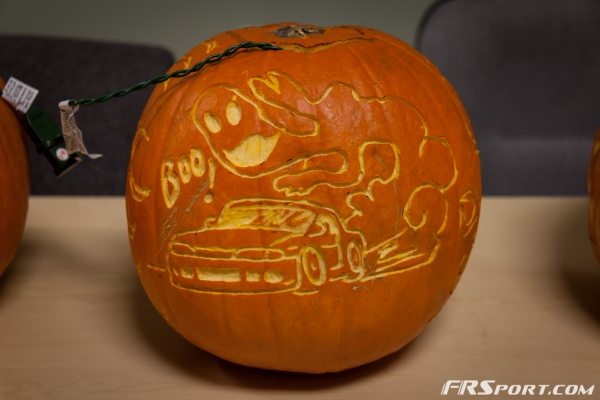 On the rear of his pumpkin he also carved a sweet Zenki S14 drifting away from some ghostly ghouls. Well done sir indeed! We bet the S-Chassis guys will certainly love this side.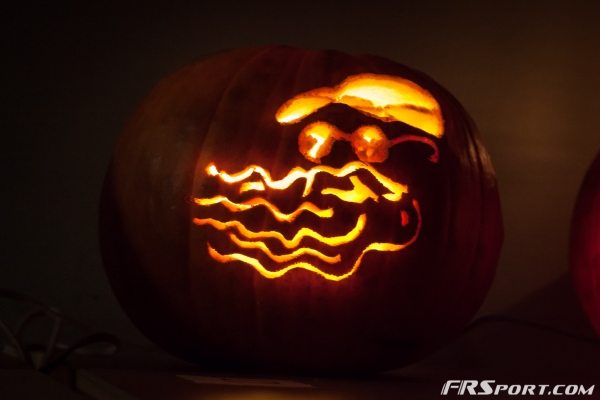 Rounding out our carving winners was Bill from Formula Drift! One of our team members was able to source a template and carve it onto their pumpkin, winning the third and final spot in the company contest. We are pretty sure if Drift Santa saw this, his beard would flip-up with joy.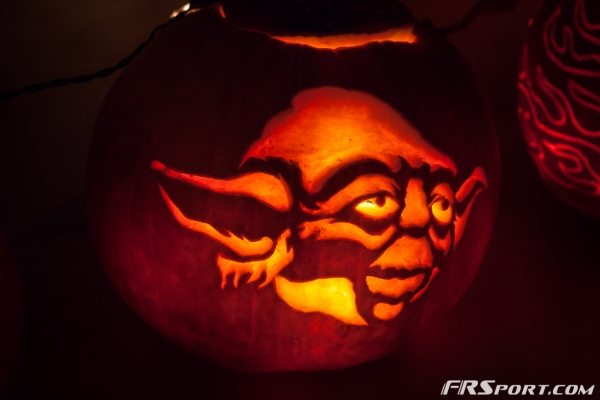 Looking to score some Star Wars nerd points within the office voting, this team decided to put Master Yoda on the side of their pumpkin. Unfortunately the force with them was not, as they did not make the cut for a prize position falling behind the "Bill from FD" carving.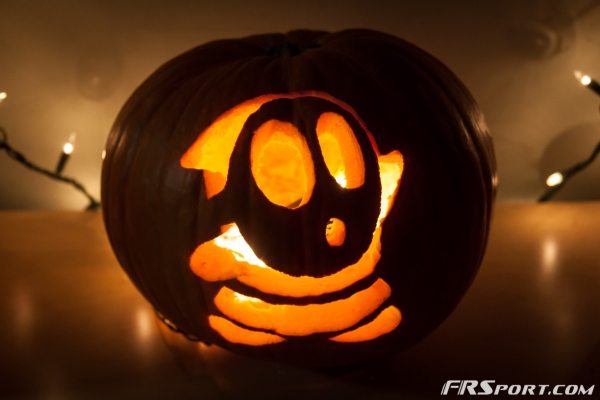 Super Mario Bros. was also represented in our carving contest. These little guys are a complete nuisance when trying to get to Bowser and stomp on his ugly, reptilian face. On the side of a pumpkin however it brings us back to those good old Super NES days. Points for nostalgia lol?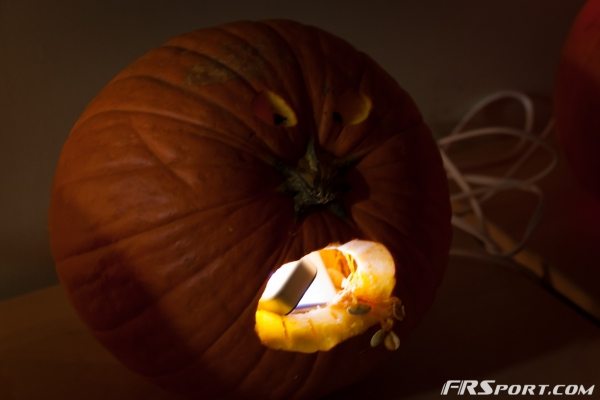 One of FR Sport's newest members depicted a hung over pumpkin here. Perhaps a little too much Oktoberfest Seasonal Brew? Whatever it was he didn't look that well.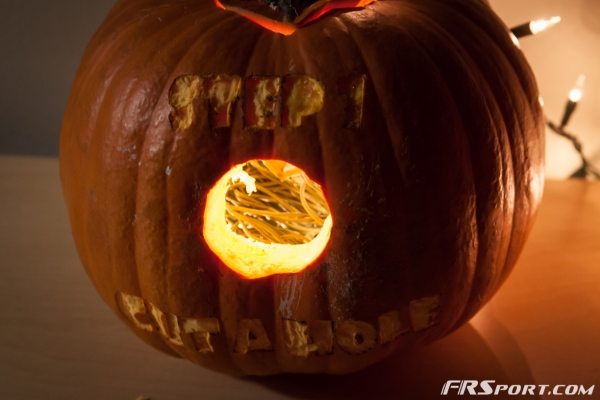 Ahhhh yes, the good ol' "Cut a Hole Pumpkin". Something tells me I shouldn't go into detail about this one. We'll just admire the concept in our own minds.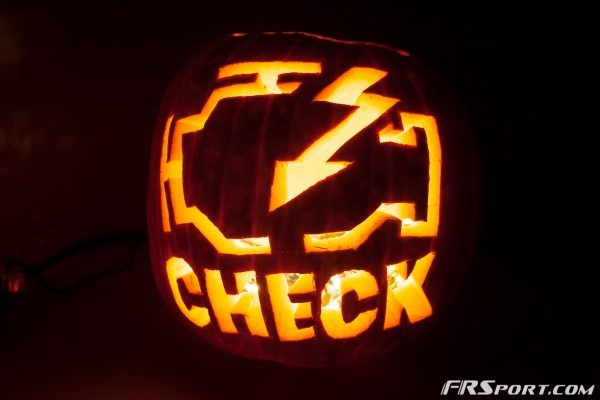 Last but not least is this monstrosity. Nothing says horror like turning the key in your ignition and this horrible, nightmare of symbol comes on. Dun dun dun, the "Check Engine Light" carving! We will have nightmares for days.
That sums up the contestants in this year's FR Sport Company Pumpkin Carving Contest. Thanks for checking out our cool creations and we'll see you again next for more epic pumpkin sculptures.