We just received one of NRG's newest products in the office (FRSPORT.COM) and wanted to test-fitted in one of our staff member's Nissan S13 Hatchback. Because this shift knob will fit differently in most cars you should probably only use this to guess-timate' the fitment on your S-Chassis vehicle.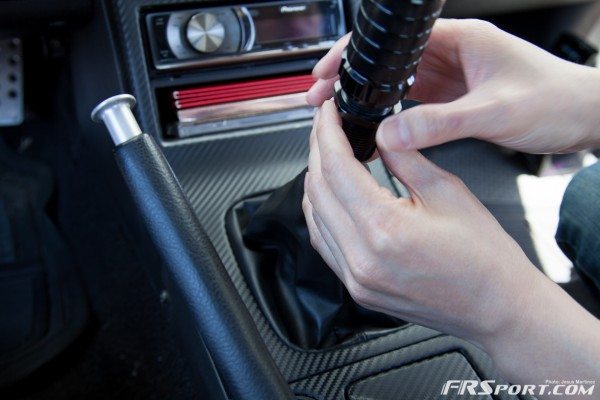 The unit we tested is the new SK 500 Stealth Adjustable shift knob by NRG. Because we installed it in a Nissan, we used the M10 x 1.25 application; a M10 x 1.5 is also available just in case you run a different thread size. The install is pretty straight forward if you have a stock shift knob so we won't spend too much time there. All you have to do is unscrew the oem knob and screw the SK 500 on and voila! you have a new shift knob. We did notice you have to screw it really tight in order for it to seat the right away. Our test vehicle had a little corrosion, which didn't help, so we had to man handle it on.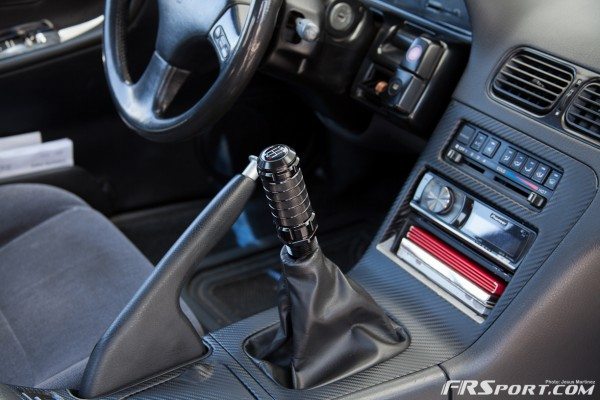 After we had the shift knob on, it was time to play with it for a bit and test it for our customers. As you can see from the image above the new shift knob sits considerably higher than the stock shift knob. You can tell that it is definitely taller than the E-brake. At this point the shift knob is screwed to its lowest point of adjustment. The reason you still see thread below the actual shift knob is because it's suppose to be exposed. The extra thread is not only the mechanism used to raise and lower the height of the shift knob but it's also a design element conjured up by NRG. To us it makes it feel a little more industrial looking and tough. 
Something to note for the OCD guys like myself  is that if you're rocking the oem shift boot the upper part of it won't stay close or connected to the bottom part of the shift knob. Although it looks like it's closing the gap in the image as soon a one is shifting this will separate and you will have a slight gap. One can always place a zip tie on the inside of the shift boot and that minor problem should go away.
The feel of the unit is absolutely tough. It feels like you are a cop on the right side of a nasty riot. It has a ribbed body and friction enhancing etchings so when you're out on the track or simply avoiding maniacs on the street, your shifts will be precise and true.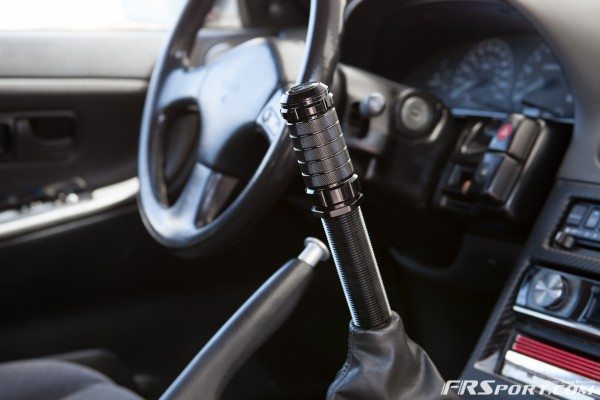 Because the shift knob is "EXTREMELY" adjustable we also took a couple images at its most extended point and can be seen above. To adjust the height you simply screw up or down. There is a locking nut that you must screw down when you are trying to make it shorter. We took images of us shifting it in a few different speeds just so you can tell what it would look like in action (again this could vary depending on seating position, posture, use of a short shifter etc.).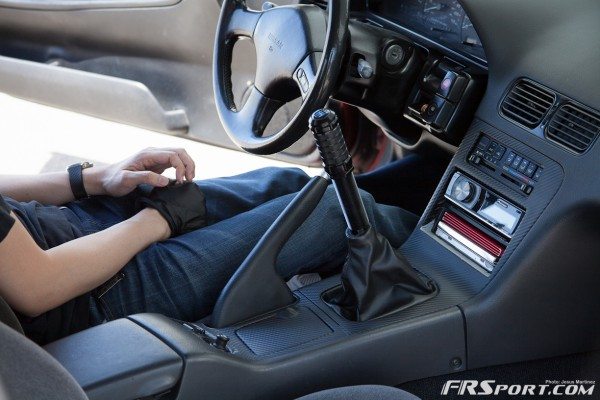 Here my co-worker is simply sitting in a resting position.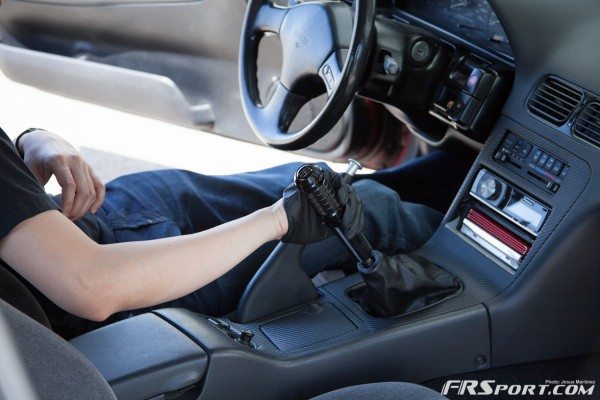 Here he is engaging the reverse.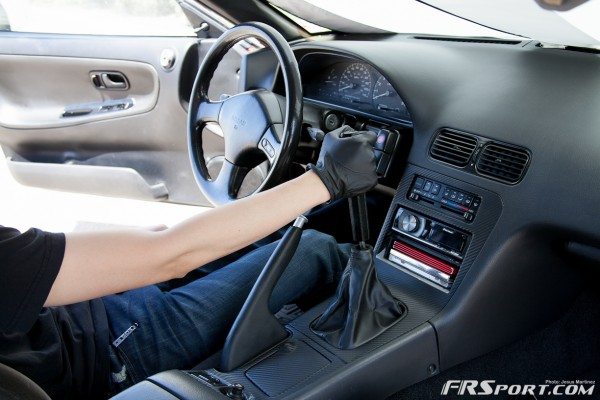 In this image he is shifting into first gear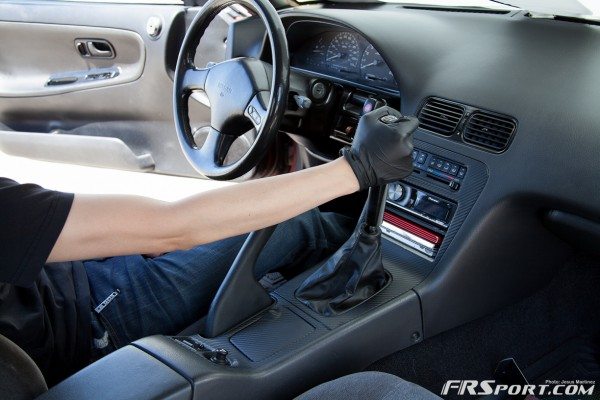 and finally here he is putting it in fifth gear.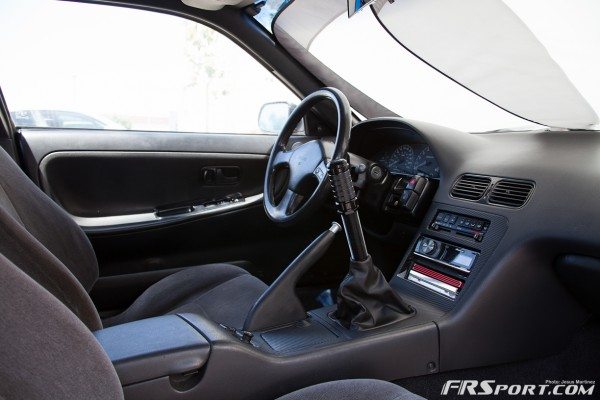 The new SK 500 Stealth adjustable shift knob aka "The Batton", "The Crippler", or "The Riot Stick" as some of us have begun calling it, isn't everybody's cup of tea but it certainly does what it's suppose to do well. It feels great in your hands, it extends the oem shifting position, and takes it to an extreme with its adjustability. This new shift knob is perfect for the guys that like to shift from their chest, need a little extension in their shift positioning, or simply broke their beating stick and need something else to cause major damage (we seriously do not condone unnecessary violence).
Update (04-29-2013): Because of the newness of this device and the efficiency of time taken to install, we completely overlooked a really cool feature pertaining to this knob. As you extend the Shift Knob, the space left inside of the unit can actually become a very neat hiding space. We don't show it in the pictures but the very top of this unit actually screws off and the space below the top can be used to hide all sorts of goodies. Below is a sample drawing by NRG of this contraption.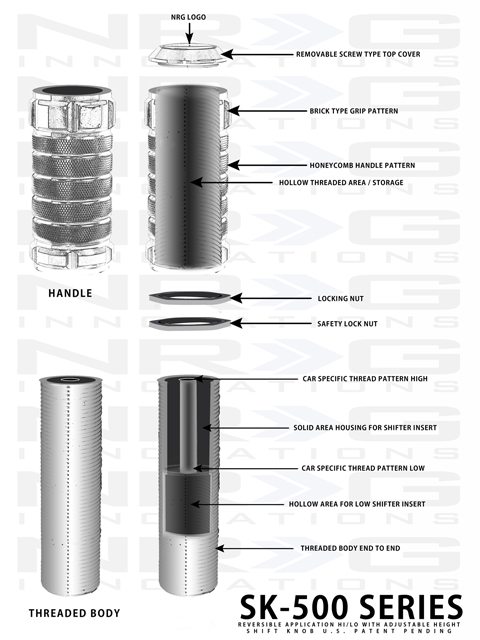 If you'd like to purchase the new SK 500 Stealth Shift Knob click here to check out the available options.