New Product Release_ Now available to order at FRSPORT.COM is the Autotech SR20 to VQ 350Z 6 speed transmission adapter plate. This item is great for the guys out there trying to beef up their transmission for drift or other motorsport events.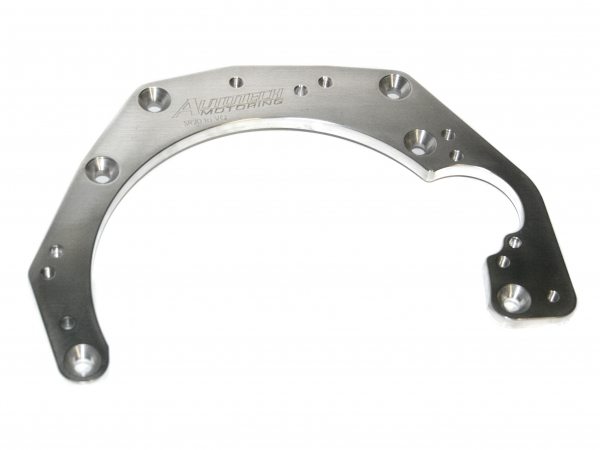 According to Autech each adapter plate is CNC machined from 1/2" thick 6061 billet aluminum and all adapter plates will include all mounting hardware as well.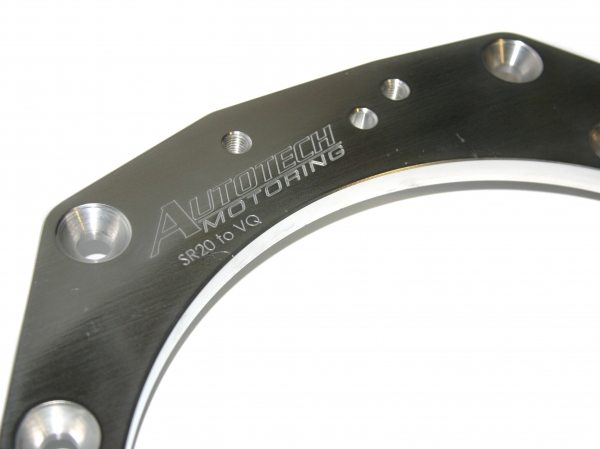 Replacing the transmission is one of the most recommended and functional upgrades for the Nissan SR20DET engine as it has been identified to have weaker components than those of the Z32 and Z33 Nissan Z vehicles. The item above however will only work with the Nissan (Z33) 350Z VQ35 Transmission. MSRP is set at 295.00 for this item. 
Contact FR Sport for further details on this transmission adapter.
(Update)
Do to overwhelming response Autotech Motoring was kind enough to also share this info with tuners looking to under go this transmission swap. Below are some of the important details concerning the 350Z Transmission into a SR20 swap.
"With this adapter plate one will need to machine the bellhousing ½" to accept the adapter plate. This is because it is needed to compensate for the adapter plate thickness. Here are a few things to summarize:
1)      Bellhousing needs to be machined ½" to compensate for adapter plate thickness. It will use the existing dowel pin locations on the bellhousing, it just needs to be opened up slightly and reamed. Autotech will include instructions on how to do so and how much it costs with each adapter plate.
2)      This adapter plate will use the SR clutch setup.
3)      The factory Z33 350z shifter bracket will need to be modified for the shifter to line up in the stock transmission shifter opening.
4)      No chassis tunnel modification will be necessary for the transmission to fit.
5)      A custom driveshaft will need to be made. Autotech Motoring can provide this or we can provide the dimensions needed.
Hopefully this covers most of it.
Regards, 
Autotech"
If that bit of info provided by Autotech doesn't answer all of your questions feel free to contact the sales guys at FR Sport for further purchasing inquiries and concerns.