This past weekend was super busy & fun:
New stuff to test on the BRZ
Jon and his 240sx take on 17 competitors in the CST class
The return/debut of both the Sprite I co-drive & my 240sx
Lots of participants (new people and veterans coming from out-of-town to prep for Pro Solo)
Check out select pics the guys at FR Sport shot at the El Toro AutoX on their Facebook page or here on the Site's Gallery.
First, let's check in with Cat:
Please give me a brief update on the latest 240sx stuff for your beautiful blue car!
My 240sx is still being finalized. We recently got the engine in and running. It was extremely exciting hearing the engine crank and turn on. It's like presents on Christmas morning. The wheels are on the car and it looks like a tank on wheels. I can't wait to have her fully tuned and out on the track.
Have you made any changes since the earlier March event to prep for this one?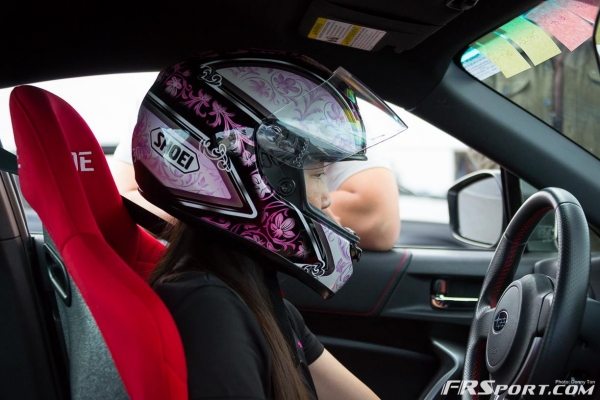 Since the last event, we concentrated on weight savings. There are now 2 Bride Vios III Low Max seats and and rails. The Anti Gravity battery is tiny and saved lots of weight. We have a new brake kit from Racing Brake Performance on the car with Winmax and Hawk Pads. The brake kit is actually lighter but the same size as the stock parts. We're also running Bridgestone RE11A Tires this time on the El Toro surface.
How did the new setup perform during this month's practice? Did you have to make further changes between the practice and the championship?
It was difficult for me to get the new set up right away. We spent a good amount of Saturday just changing up settings. Much thanks go to the genius who decided to set up a skid pad during the practice; we were able to dial in a lot of things in between runs! It helped us make changes and test the set up. By the end of Saturday's practice, we got closer to how we wanted the car to perform for competition the next day. There's still some fine tuning to do on set up but things felt pretty good overall.
Can you give us a brief recap of the STX action during the championship?
It was very nerve racking for me. To be honest, with all the modifications, I figured I would see time improvement. Instead, I learned that there's a lot of my own personal skills that need improving in order to fully utilize the upgrades. After 3 runs of trying the ALL OUT  – TOSS CAR method, I decided to calm down and try going smooth and it improved my time by approximately 2 seconds in the 4th run. I still had a lot more to learn with this new set up and the Pro Solo is coming up fast. Everyone in the STX class is also  improving personally and it's great to run with all of them.
Here is a video of Cat's fastest competition run on Sunday (66.951):
[youtube height="360″ width="640″]https://www.youtube.com/watch?v=_ZS8SCCzLGU[/youtube]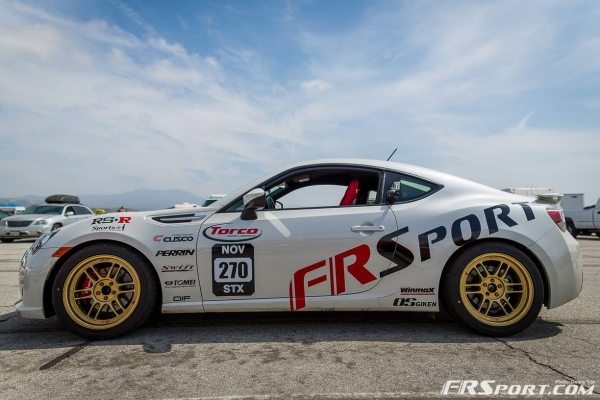 The BRZ also has lots of new stickers! I had an opportunity to take a run with the latest setup after the FR Sport guys fine-tuned it on Saturday. The car feels super predictable with the Bridgestone tires compared to the Federals since you get much more feedback, brakes well with the new fluid and RB brake setup, and holds you in better with the racing seats. The Tomei exhaust setup we had at the last event was loud but way too loud for our purposes. The Blitz exhaust alone was way too quiet. They decided to go with the HKS header and Tomei front pipe to go with the Blitz exhaust. This sounded fantastic – kind of like the story of Goldilocks and the 3 bears; we finally found a setup that was just right.
Dung has also returned from his very own autox haitus and has started competing in the Novice class (best 6 of the year count against other Novices after indexing of times based on car class). He also won his first event in the BRZ – CONGRATS Dung!
My 240sx also made its autoxing' debut this past weekend – that will be posted in a separate blog post shortly.
Finally, let's check in with Jon Hartendorp:
Have you made any changes since the earlier March event to prep for this one?
Only changes I've made is that I am now running a slightly wider rear wheel at 17×9.5 +18 versus the 17×9 +22 setup I've been on for awhile. Additionally, I picked up a set of scrubbed in RS3s which has worked at El Toro's surface so far.
I heard you were struggling with some car setup issues earlier in the day for the practice this weekend. What was happening with the car & what things did you end up adjusting so that the car would work better for you?
Funny you ask about the car setup because I was out of it for some reason during Saturday's practice because I found myself almost 2 seconds behind the regular CST guys I compete against! I knew something was a little bit off because I didn't really feel quite there in terms of both the car setup and my driving ability; something about the course didn't jive well with me for some reason. I missed a couple braking points and in one instance, I actually overcooked one hairpin corner which led to the car coming to a complete stop and then stalling, ugh. I dusted myself off (literally) and just drove on.
Basically, it came down to that the car was not putting power down good coming out of the corners due to a lack of rear end grip. I was frustrated at the end of my practice runs and was trying to figure out why my car was not powering hard out corners, so I ended up talking with a good autocross buddy of mine who always is constantly pushing me to be faster and drive at a higher level. From that, we both ended up taking my car to the small practice course that is usually set up during practice days in order for competitors to tune their cars along with getting rid of any ill-handling problems which my car had at the time.
For one hour, we tried different dampening settings with the Zeal Function X coilovers going from soft to hard and then to soft again.  What my buddy and I found (and this is something I suspected) is that running a stiffer dampening setup is very beneficial to putting grip and power down at El Toro's surface BUT it also made the car more sensitive to driver inputs in that I had to drive the car in such a way that it was "dancing" on the limit's edge towards almost spinning.  Because of that, I had made my inputs smoother yet faster in order to keep up with the improved and faster response that the Zeal coilovers were now giving. I took so many runs on the practice course, going up and down the slalom section to the sweeper and through the switches that at the end of this tuning session, I felt that I had really learned and accomplished something in setting myself and the car up for Sunday's competition.
Lastly, the battle between you in your Nissan 240sx & Michael Bradley in his Mini Cooper was super close. Can you give us a brief recap of the CST action?
The battle for CST was anybody's for the taking although I was confident that I could get good times out of my car BUT would it be enough to beat Bradley in his Mini?
The first run was basically the "find the line and see how much stupid you can get away with" run so I was not really too concerned with what time I put down.  Things got "real" though around my 3rd run because I was behind Bradley by about 2 tenths (my 65.798 versus his 65.541) and I knew I had to really bring it on my final run as I dropped another 5 tenths and posted my best time at 65.235. Bradley then went out on his own 4th and final run as I watched anxiously to see if he'd be able to beat my time which he was not able to as he crossed the line at 65.869.  Talk about a tire-chunk-eating-nail-biter!
SO, it's pretty safe to say that the time I took to tune my car the previous day was time well spent indeed!  And even though I won by a not-so-huge 3 tenths, it's a win nonetheless. Winning is winning right? Thanks for the quotable Vin Diesel!
Congrats Jon on the win! Looking forward to getting some video & photos of you at the next event (sorry, pictures & video didn't work out because of the timing this past event with everything else going on).
As for myself, I also placed first in the Sprite in the Combined Prepared class, woo hoo! I got lucky, and one of the competitors who would have won coned' their run, leaving me w/ the win at a tenth of a second. Lucky me!
The next edition of SOLO Together will be posted in a few weeks after Pro Solo – a super exciting drag racing/virtual mirrored-touge setup of autox!