After I was finished with putting Kandi 2.0 together, I took the 240sx to a local autocross to give her the initial shakedown. Everything went better than expected, so when the guys from FRSPORT.COM invited me to go with them to Round 2 of Redline Time Attack, I hustled to make some changes I needed in order to get her "track ready" for shakedown #2. I'm a total track newbie & a big chicken when it comes to high speed cornering however, I had built my car to be able to do things like this, so now was a good a time as any to get it more seat time.
I added a rearview mirror (so I could let people pass me), brake lights, roll bar padding, and double checked my 6-point harnesses. I've been to a couple HPDE's before, but not in this car, so I had no idea what to expect. This was also the first time towing the car with the FJ Cruiser such a long distance. We all left late Friday night after putting the finishing touches on our cars & prepping for the weekend. Upon arrival at around 1:30am, we found the gates to Chuckwalla Raceway closed… FML. We slept outside of the gate, woke up to the sound of engines starting from others who were also waiting outside the gate the night before & began our setup.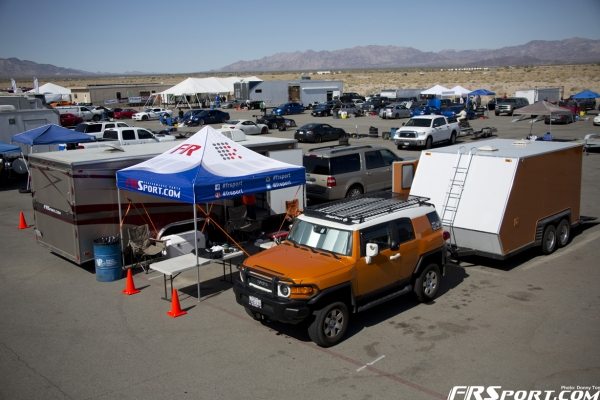 The weather was great that weekend, we were situated near the restroom/shower facilities (yes, they have full showers at Chuckwalla!), and there was plenty of seat time to test out the car. Dung and I ran with the beginner group in the RX-8 & my car, respectively, while Cat ran in the Intermediate group before us with the RX-8. I was very nervous, since I wasn't used to driving the speeds I was seeing out on the track. It was comforting to know that events like this have a beginner group which consists of "lead and follow" parade laps for the first session.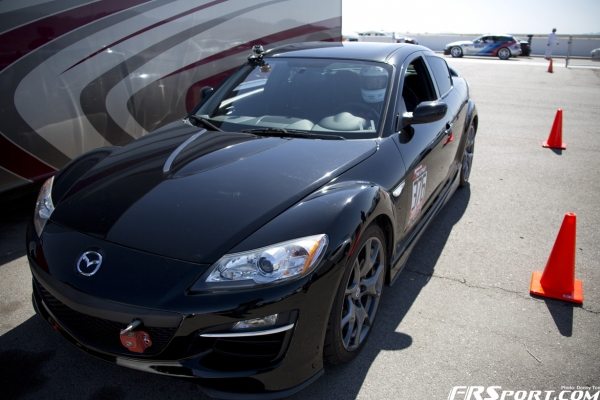 I went out, saw the lines, came back in, and was still nervous. I'm glad we had a slow look at the course, but I still didn't feel ready to take the course at anywhere near full speed. Luckily for me, my racing hero Adam Knapik had a little bit of free time in between tuning the Evo he was competing in to ride along with me and give me some pointers. He rode along with me while I put in a time of approximately 2 minutes 30 seconds, which was a snail's pace for most. Unlike autocross where you go all out right away, I wanted to slowly build up speed and get more comfortable with it while trying to figure out the lines. I wasn't really here to compete or go all out; I was more here to get used to track days and do more shakedowns on the car. Despite my slow time, Adam was still very supportive and gave a lot of useful feedback. Some of the feedback I knew I was doing wrong (taking lines too tight, too slow, braking too early & gradually) because I was driving where I felt comfortable for now, but a lot of it helped reinforce my thoughts on what I needed to improve upon as well as some things I wasn't even thinking about, because I spent half the course thinking "please, let me live!"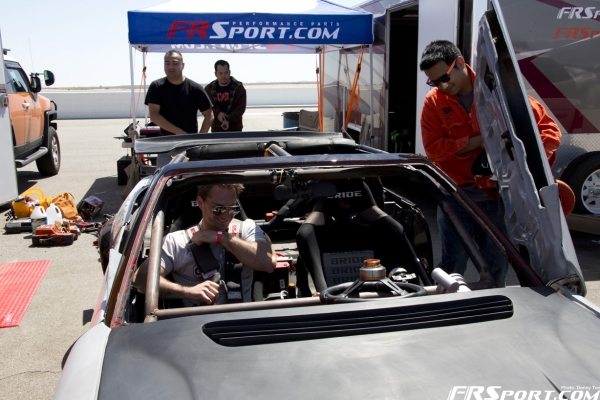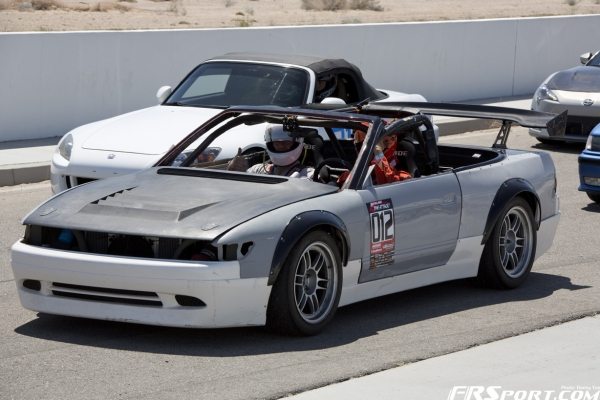 After digesting some of his tips, I went out for our next section doing a lead and follow with Dung. We were a bit late out on the track, so we didn't get a full session in, but it was still really fun (felt like the canyon days, if you know what I mean). I changed my line up a bit based on Adam's suggestions and observed some of Dung's lines for reference. I was able to get down to approximately 2 minutes and 22-24 seconds or so by this 3rd session. The car felt good and held up. Even the manual brakes felt pretty decent after I made some minor adjustments over the week since the initial shakedown.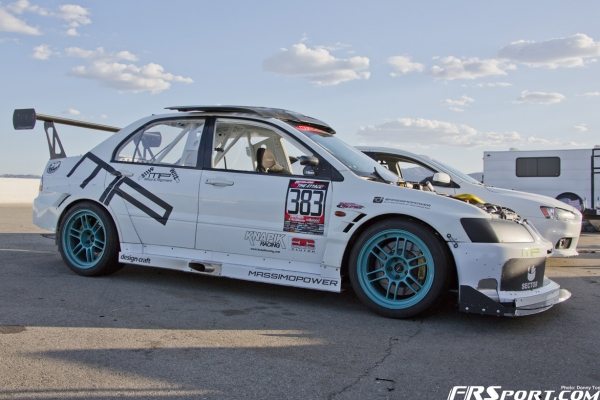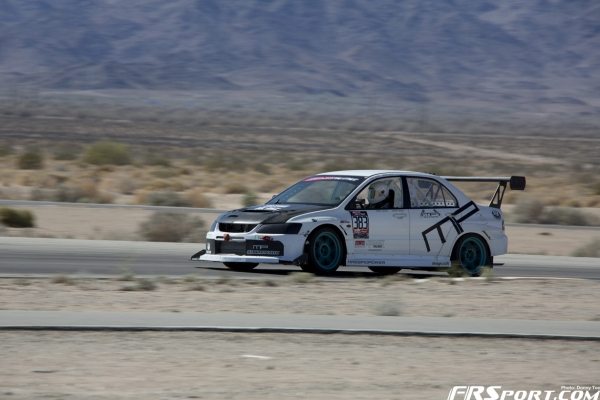 In between our sessions we got to see other groups go: advanced group, intermediate group, Alpha Group, and the Lotus Cup Group as well. The cars were cool!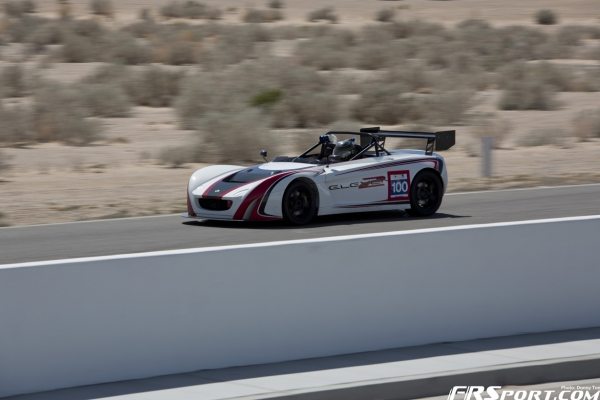 I took a ride along with a road racing/autox veteran Vincent, who I know from our local autocrosses in his daily driven backup BMW – OMG, it felt nuts. He was about 15-20 miles per hour faster than I was through many corners. I thought I was scared before, oh boy! As scared as I was sitting in the passenger seat, I picked up quite a few tips just observing Vincent negotiate the track (his acceleration/braking points, line & setup, speed, etc.). Combining all the things I was picking up from everyone, I managed to get down to about 2minutes and 19 seconds by the end of Saturday & 2 minutes and 17 seconds by Sunday morning. This is still probably about 20 seconds off what the car can do, but I was very happy:
I improved a lot from my initial run.
My car stayed in one piece.
My tow vehicle stayed in one piece.
I had a great time with my buddies who came out to race & support.
So much food cooked up by Dung – the weekend's chef.
Nice cool relaxing night with stars surrounded by nature.
I'm not ready to give up autocross, but I'm definitely adding in more track days to my racing budget. For those who are considering doing a track day – DO IT! If you are newer to racing, I would actually suggest participating in some autocrosses first to get the basics of handling down, but both types of racing are very newbie friendly; you just have to ask for and be open to help. Overall, the weekend exposed me to more racing I wasn't used to. I'm definitely glad I came out & I also learned a lot from the added seat time and from getting advice from my more experienced colleagues.
I think I'm going to invest in a new pair of racing gloves and eventually a full racing suit – SAFETY FIRST!
There are a few things I need to fix/work-on now to get the car ready for Pro Solo this coming weekend. There should be plenty more pics from the weekend posted on the FR SPORT Facebook page or on the gallery shortly. In the mean time, I'm going to close with a picture of me having a yummy orange gummy bear.
For more great coverage of the event please click the gallery button below and enjoy the best images of Redline Time Attack Round 2!
[button color="#FFFFFF" background="#FF7F00″ size="large" src="http://heavythrottle.com/event-coverage/track-events/2014-redline-time-attack-round-2/"]View Gallery[/button]