The last round of Top Drift is always fun. The track is a banked oval with concrete walls that the judges and crowd like to see you get nice and close to and the event is held later at night, keeping most cars happy because of lower temperatures. So naturally I was excited.
We loaded up the truck and trailer and hit the road mid day Friday to make it to night practice.
Excited and ready, I took the car out for some practice runs and a gremlin that has been pestering us all year in this car reared its ugly head yet again. The hydraulic e-brake was not releasing any pressure, keeping constant brake pressure.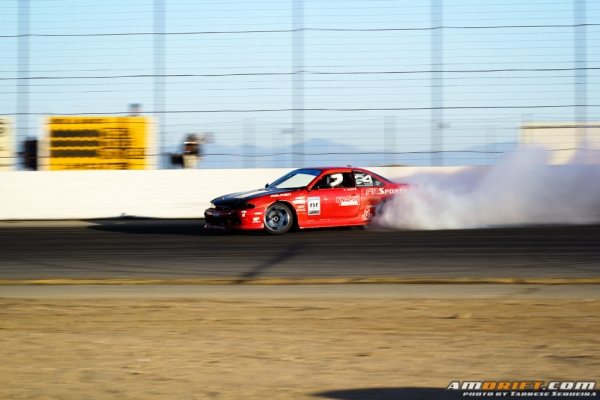 At that point we were stumped at what it could have been. We had changed everything already once throughout the entire system.
We tried re-bleeding it and headed out one more time, but the issue didn't change.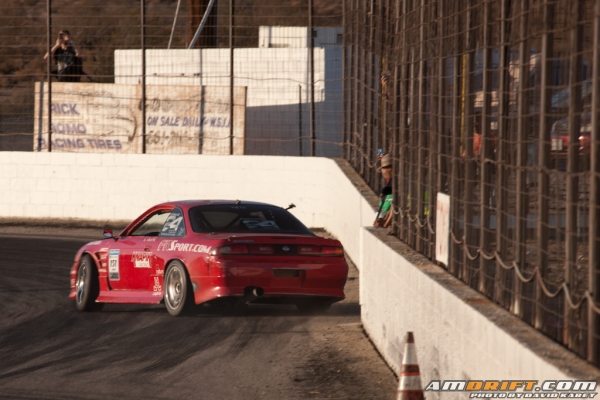 We also tried trimming down a fitting, thinking maybe it was bottoming out and not letting fluid pass, but that didn't work either.
Since we were late to practice, by the time we pulled the fitting, trimmed it, and re-bled the car it was too late and there where no runs left.
Since we didn't have practice during the day on Saturday we took the car up to the Balcony course to see if trimming the fitting worked, and unfortunately it didn't. In fact it was so bad now that at this point the rear brakes were completely locked and we were now stuck on a hill trying to make our way back to the track.
We sat for a minute or 2 in pure confusion and then in a fit of anger began to yell (as one normally would) at the e-brake handle while pushing it with all out might and then it happened. Just like that, the rear brakes released and we began rolling forward. Now I'm sure you can image our confusion and joy at the same time.
It turns out that the rod we used going into the master cylinder was not allowing enough release, keep just enough pressure to slowly build up and keep the brakes locked if pulled a few times. After that it would slowly release pressure (after about 12 hours it would be free again).
So with that issue some what figured out the plan was simple. Release the e-brake and just don't use it for competition, as we didn't have another rod handy, or enough time to source one out.
Practice came about and we did a few passes. Car and power feelt good, but there was now a binding issue with the steering.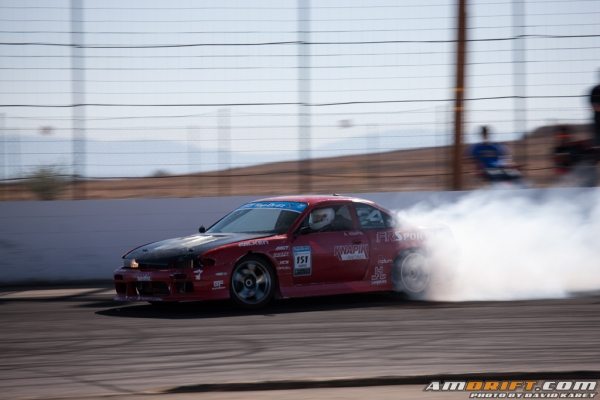 We had no time to figure it out. Qualifying was coming up and we needed to head out.
I went out for my first run, car and run feelt great. Then suddenly dropping from the bank to the infield the steering locked up and caused me to spin.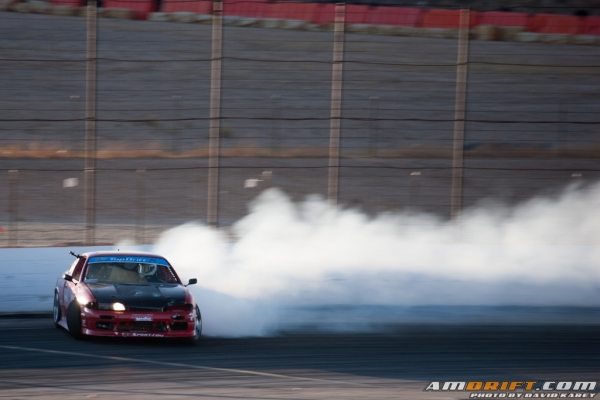 At this point I was a little upset. I lined up for the second and last qualifying runs and spun. That last one was all my fault, just from being upset.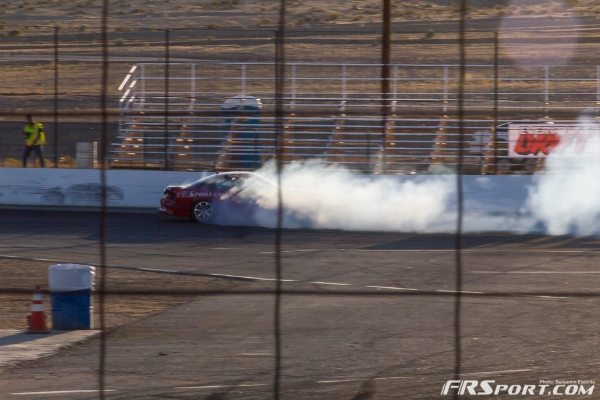 So with that I was out of the show. But I was able to sit and watch which is fun too, as the driving from all the guys was top-notch!
This year went nothing like I would have expected or liked, but we found out all the problems (I hope) and should be able to have them all ironed out for next year, because im coming back!
Pictures are thanks to www.AmDrift.com
Check them out as well for full coverage of the whole event!