One of the things I absolutely do not miss about driving my car when it was KA24DE-T powered was the constant leaking from the power steering reservoir after my autox runs. Some people ran a small power steering cooler to help. I was lucky enough to be able to find a custom power steering reservoir that sealed and adapted it to the 240. This actually worked really well. However, with the new LS1 setup, the power steering reservoir is part of the pump, so I couldn't carry over my reservoir. After searching the Internet for a period of time, I was able to find a Derale framerail transmission cooler (13220) in the size and diameter I wanted. It looked like it would fit just about perfect in front of the car.
Now, this transmission cooler was made to be mounted along the framerail next to the transmission, where there is very little airflow. My idea was to put it toward the front of the car to give it extra airflow on the straightaways while still allowing it to cool in turns/counter-steering situations. The 11/32″ hose diameter for the cooler mates snuggly to the LS1 power steering reservoir return line. I was able to reuse one of the mounting holes & just used a rivnut on one of the other existing holes. Keep in mind, I have removed my hood & headlight support brackets; however, it seems like this will work just fine on a 240sx with those parts still installed – you'll just have to space things or move it slightly over. Everything else bolted up fantastically.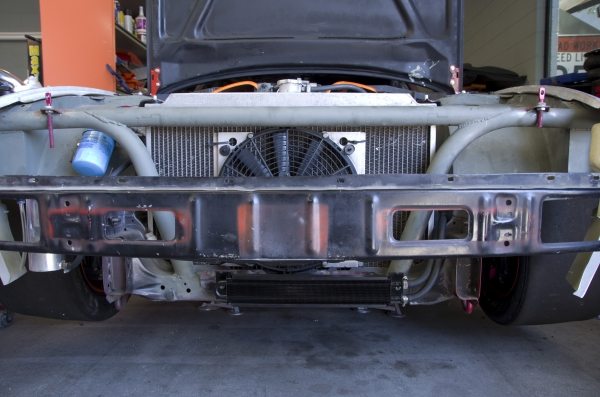 Depending on how you route it, the supplied hoses should be enough. I have a tubed radiator support, so it was very easy to route; stock front-ends may need more hoses.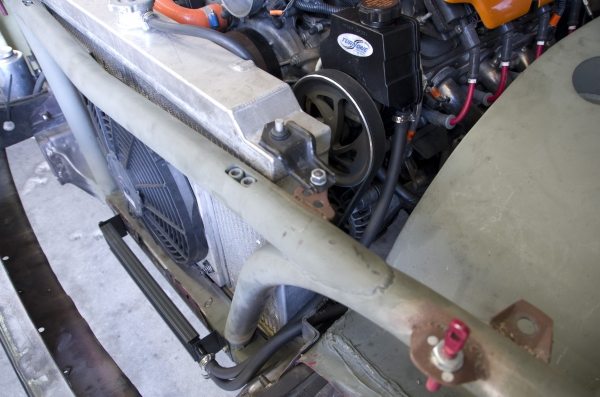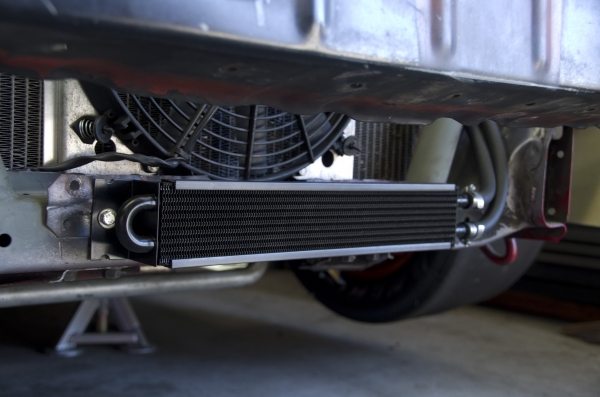 The cooler sits directly in the airflow path & is protected by the chassis (mostly) from the bottom.
I tested the new setup during our August autox event at El Toro. There was no more power steering fluid coating the side of the engine bay, although there was still some on top of the reservoir by the cap. It is significantly less leaky now. Unfortunately, other things broke on Sunday, so the car is down again… I'm still making progress – slowly, but surely.