The second round of Top Drift 2015 was held at Willow Springs International Raceway: Horse Thief Mile. Once again it was a full house.
We came into round 2 with a lot of confidence. The car was set and we had finished everything at least 2 weeks prior to the event. Between the rounds there was about a 2 month hiatus, and with HTM being one of my favorite tracks to drift on I was super excited to get out there.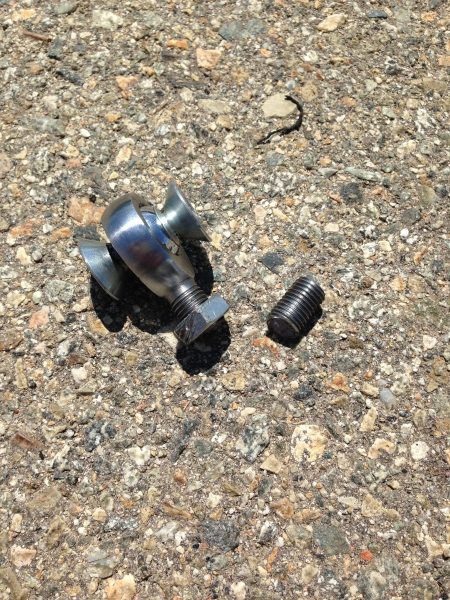 Well it would turn out that I was a little too excited. After just a few laps I had put a tire off track. The pavement drop off to the dirt is quite larger at good ol' HTM, and ended up busting the rear upper control arm heim joint.
Now trying to find one of these puppies out in Lancaster on a Saturday (Memorial weekend, mind you as well) is not easy. We searched, called, and drove around for hours. We ended up getting lucky and a fellow competitor and friend, Rob Carlsen, had one on his car. Since his car wasn't up and running yet he was nice enough to lend us the upper arm so that we could get some practice runs in.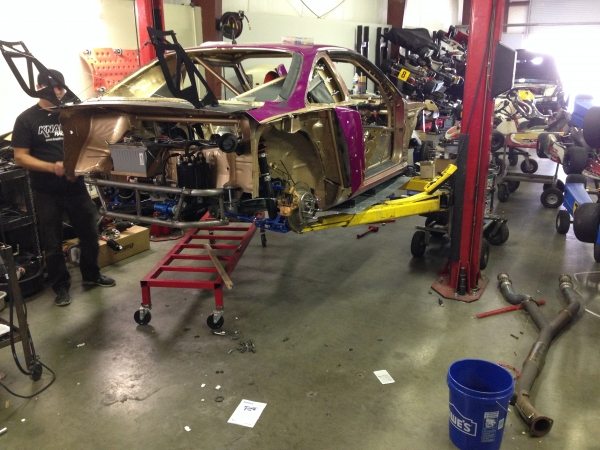 With the arm installed and the alignment checked we headed back out. At the end of the practice session I noticed the car felt less responsive, and down on power. When I pulled into the pits you could hear the engine misfiring.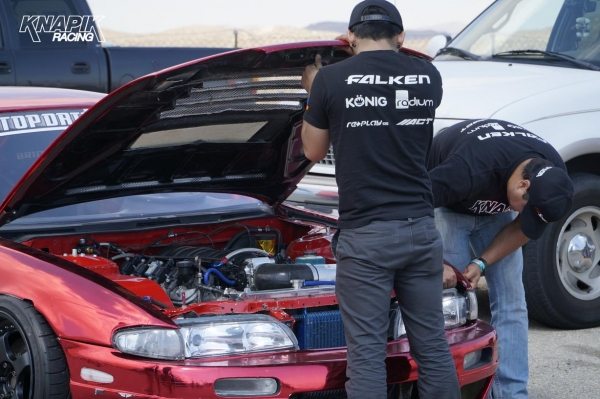 We started going through it, checking everything we could think of, pulled this and that, cleaned out injectors, etc. but we were not able to find the issue, and by now we had ran out of sun light.
The next morning we checked the compression, fearing the worst, but low and behold everything was good. The last thing we could think of was to change out the plugs, even though these had just been changed out. Changed them out, turned her on and VOILA!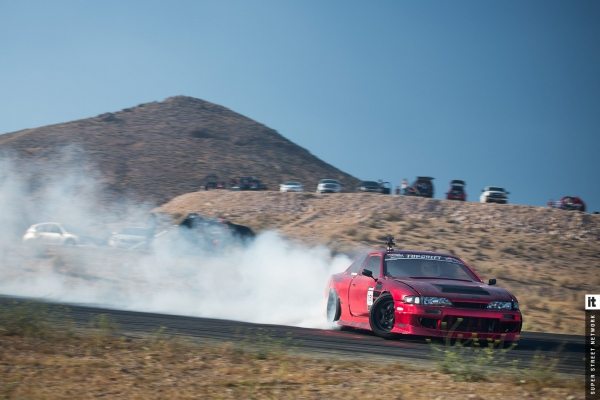 Luckily we have a practice session before we start top 16 qualifying. Took the car out, felt good, and I was happy.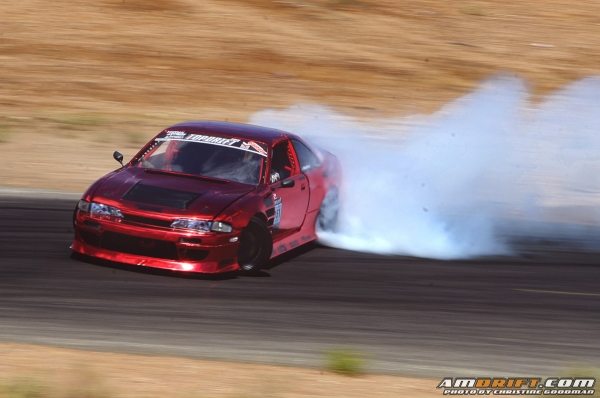 We were able to qualify 3rd overall. Happy to make the show we quickly put fresh rubbers on the car and headed up to staging.

My first run would be up against Aaron Sly. He had been driving well all weekend, but had straightened on the chase run behind me.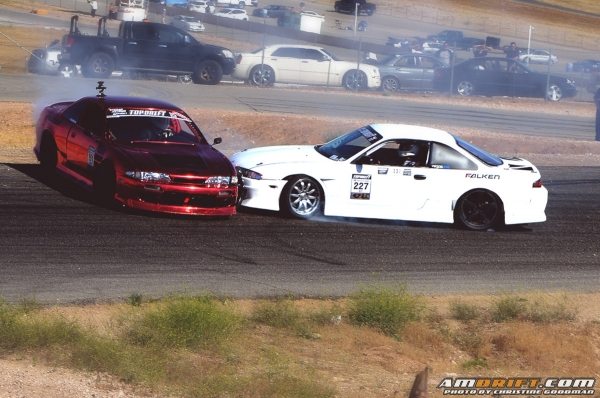 I knew he had made an error, but I didn't want to take it too easy behind him. We had no errors on the chase run so the judges had awarded us the win.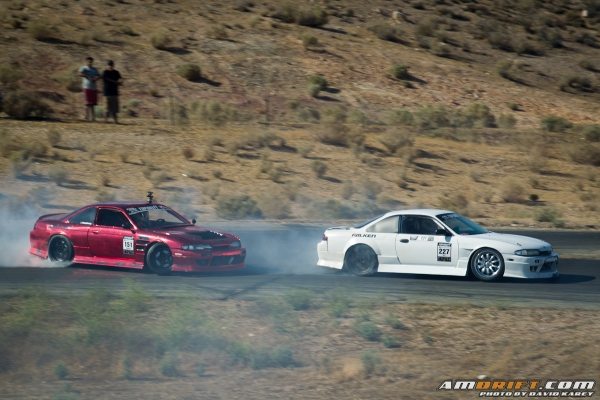 We where then paired up with Blake Olsen, who is a solid driver, with a super cool (and super low) S13 Silvia.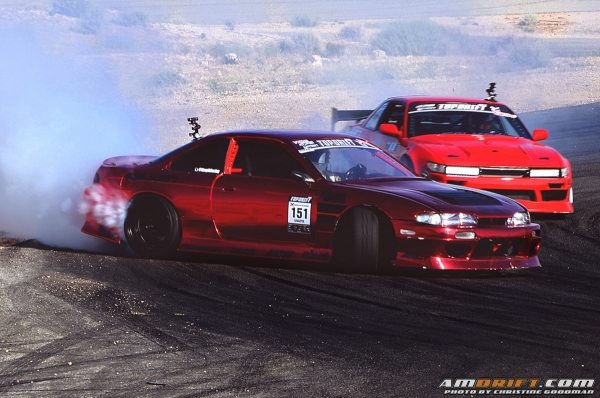 At the time I had not known that during the chase run, Blake had dropped 2 rear tires off giving me the advantage. He had been really consistent all day so on the follow I had tried to stay close to him and match his angle.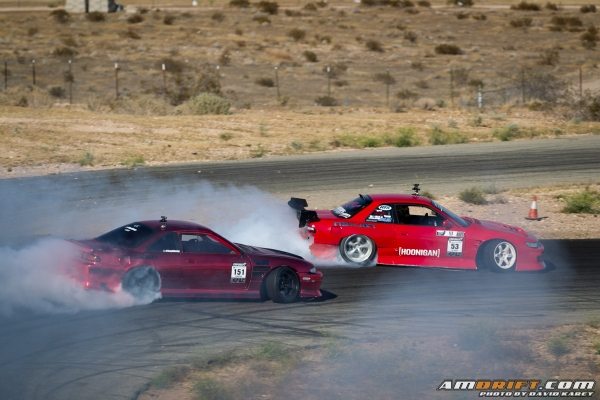 For the final 4 battle I would be paired up with Kenny Chieu who had been driving great all day in a borrowed S13 with a stock SR20DET.
I had misjudged the gearing on the follow run, and as a result straightened behind Kenny. My only hope was to try and put down a solid lead run, and hope Kenny would make a mistake. He held the run together great and was awarded the win.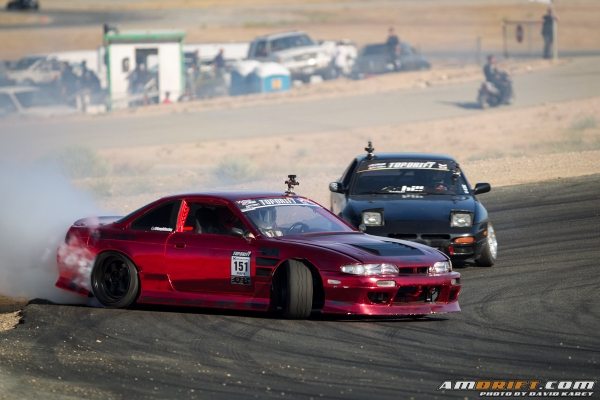 Knocked out of the possibility of 1st or 2nd, we would now be fighting for 3rd podium spot.
We were paired up against number 1 qualifier Matt Madrigali in his LS powered S13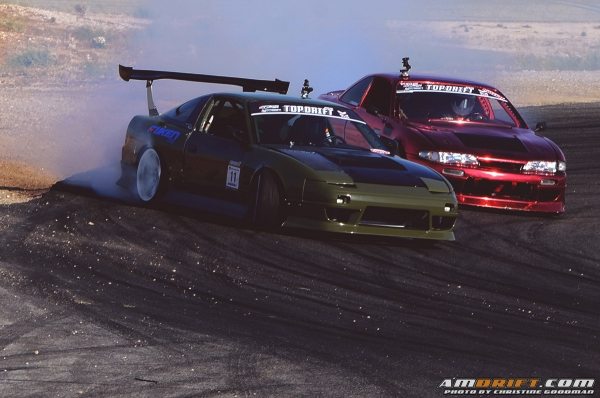 I knew I would have to stick close on the follow run as he was one of the faster guys out there, running Achilles 123s's in the rear. On initiation I stuck to him as well as I could so that I wouldn't loose him coming down the hill. I had nudged his rear wheel a bit, but it didn't affect his line or angle, so I was given a deduction. I knew my lead run would have to be good, so I threw everything I had trying to put down speed, smoke, and angle. Coming down the hill Matt would straighten, and thus give us the win!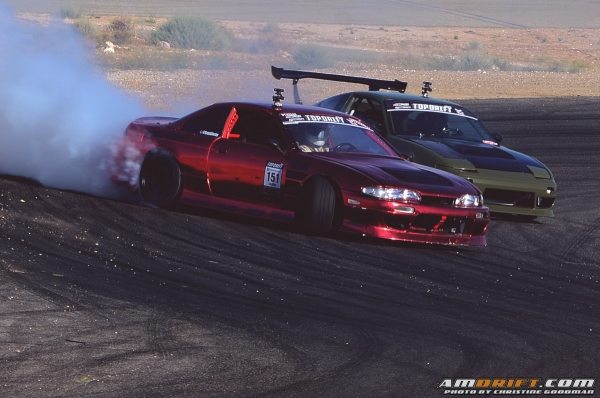 This event had its ups and downs, but in the end we ended up getting a podium spot and I could not ask for more!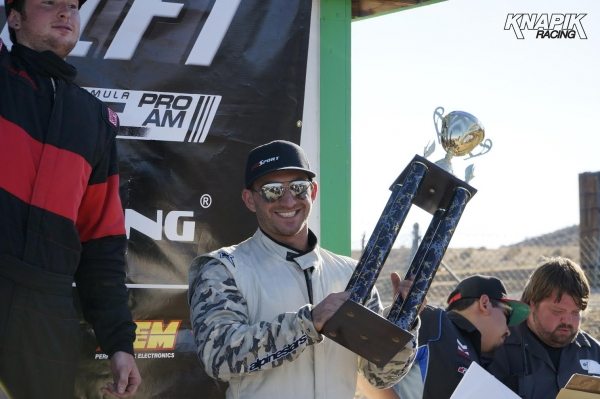 Congradualtions to Kenny Chieu, finishing in 2nd spot and Trent Beechum who would steal the show with his 1st place vicorty!!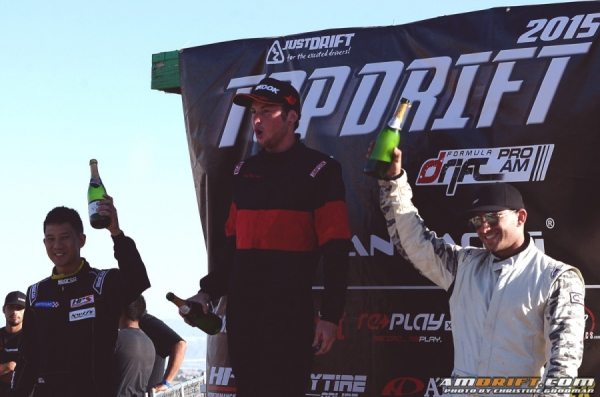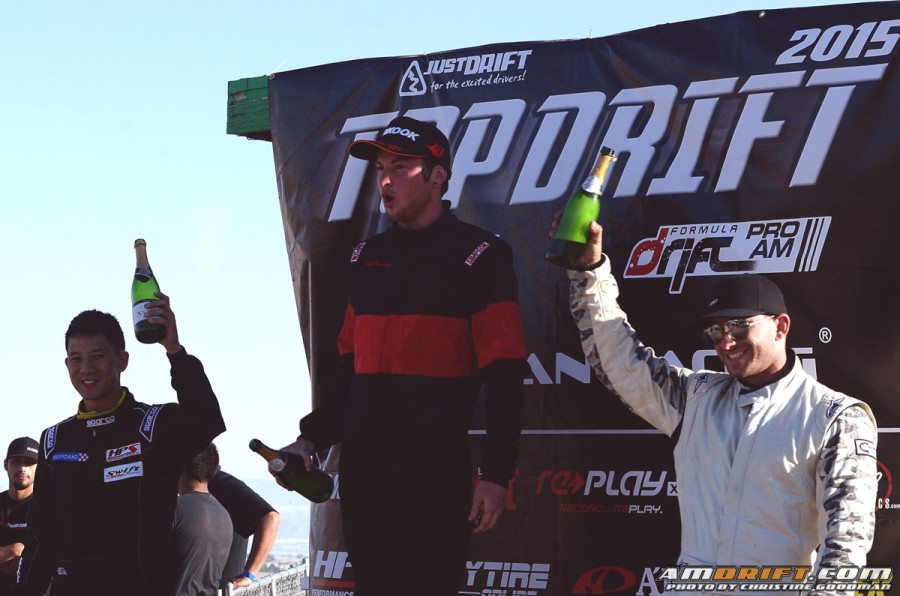 Cheers guys! See you all at Round 3 in just a few weeks!
More great shots can be found at:
AMDRIFT.COM / Super Street Online / OMGDRIFT.COM
Video of all Adam Knapik's runs: